Senior Python Backend Developer | 6 – 10 Yrs | Bangalore
Experienced
Full Time
Experience: 6 - 10 Years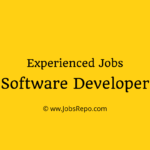 Website Ericsson
Job Description:
We at Ericsson Global India Services Pvt. Ltd., is looking for proactive, dynamic and proficient individual for a senior developer position in BMAS We are a R&D unit in Ericsson, building world class cloud-native based AI/ML big-data analytics software for telecom operators. We are looking for a dedicated and proactive individual having end to end cloud native product development experience in Python and ML.
Job Requirements:
Python Programming (Expert) and Data-manipulation/ML packages (Ex: Pandas, Scikit-learn)!
Python packages for UI development(matplotlib) & DB Knowledge, MSsql (SQL Alchemy & Alembic(DB), API, Server. Microservices knowledge & Restful API design!
Concepts:
ML Basic to Intermediate & NLP.
Infrastructure:
Docker, Containerization & Cloud Knowledge.
Additional:
PREFECT as Kubernetes manager , Argo-workflow (workflow management).
Non-Technical Skills:
Teammate with go getter & Excellent verbal and written communication skills. Excellent problem-solving and troubleshooting skills.
Experience and Qualification:
Bachelors in Engineering (B.E/B.Tech in IT/Telecom) with 6-10 years of R&D experience in design and development of software applications.
When you apply, don't forget to mention that you found this Job Post on JobsRepo.com