Senior .Net Backend Engineer | 2+ Yrs | USA
Experienced
Full Time
Experience: 2+ Years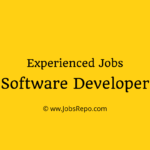 Website Stryker
Job Description:
The Senior .Net Developer drives backend system development and provides technical input and strategic and functional guidance. They have a general understanding of efficient data processing, systems integration and data retrieval with a database and can independently make informed decisions about how technology is implemented and managed. This position provides experienced technologists an opportunity to leverage and grow their deep and diverse technical skills by working with team members around the globe. Individuals in this position will utilize existing architectural, design, development, and DevOps skills.
Job Roles and Responsibilities:
Provides input into the technical and platform-related strategic planning process of the DRE Digital team.
Contributes to design, implementation and documentation of cloud-based platforms and applications within the organization and support all the way to the release and beyond.
Actively works with stakeholders of the organization to collaboratively construct project feature lists and prioritize based on business value.
Supports integration efforts with different business units and leveraging existing platform offerings.
Creates an environment that promotes collaborative learning and collective ownership of responsibilities.
Leads, facilitates and encourages design and code reviews – looking for areas of improvement and opportunity for team members and the platform.
Helps to improve product quality and reduce manual testing efforts with automated testing.
Continuously evaluates and drives measurable improvements to processes, platforms, tools, and related technologies; provides necessary trainings to communicate changes and measure outcomes.
Job Requirements:
Bachelor's Degree in Computer Science, Computer Engineering, Computer Information Systems, or equivalent.
2+ years of experience developing well-performing solutions leveraging technologies such as .Net (C#) or Java
Experience with development tools such as Visual Studio, Visual Studio Code, Eclipse, TFS / VSTS / Azure DevOps / JIRA / GitHub, and Git.
Experience with Agile / Scrum methodologies.
Preferred Skills:
Experience with architecting and implementing cloud-native solutions in MS Azure, AWS or GCP .
Knowledge of DevOps practices including source control, unit and integration testing for Continuous Integration
Experience with Continuous Integration, including infrastructure-as-code and deployment automation
Experience architecting effective and easily maintainable solutions solving complex technical and business problems.
Experience with Relational Databases and SQL, such as MS SQL Server or Oracle.
Experience with Schema-less Databases, such as CosmosDB, DynamoDB or MongoDB.
Experience with Microservice architecture, containers, and server-less functions, such as Azure Functions.
Strong analytical skills, including the ability to proactively identify features, requirements, edge cases, and to create excellent documentation.
Good written and verbal communication skills.
Job Benefits:
$81k – $173k salary plus bonus eligible + Benefits (Health, Vision, Dental, 401K, Tuition Reimbursement, Employee Assistance Program, Wellbeing Program, Employee Stock Purchase Program). This information reflects the anticipated salary range for this position based on current national data.  Actual minimum and maximum may vary based on location.  Individual pay is based on skills, experience, and other relevant factors.
When you apply, don't forget to mention that you found this Job Post on JobsRepo.com