Senior Manager of Testing and Optimization | 6+ Yrs | USA
Experienced
Full Time
Experience: 6+ Years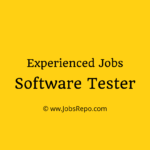 Website Verizon
Job Description:
The Senior Manager of Testing and Optimization will lead a team that will be responsible for creating a centralized, structured testing approach within Verizon's Value-Based Marketing (VBM) team. This group will work with campaign teams across VBM to build out quarterly testing plans, provide support and guidance in building structured, scalable and readable tests to maximize campaign performance, and will the central point of contact between VBM and the corporate research team for new messaging, product and creative research that will help drive meaningful insights and identify new audiences to support Verizon home and mobile products.
Job Roles and Responsibilities:
Lead and execute agile testing across promotional email, direct mail, digital and mobile campaigns with a focus on personalization and 1:1 data marketing.
Centralized point of contact across marketing and communications teams for developing, measuring, and scaling campaign efforts that drive critical learning and insights to drive campaign performance improvements.
Partner with marketing managers, research teams, product teams, and communications managers to build research and testing plans that support campaign positioning, messaging, offer presentment, and creative insights.
Create and maintain robust testing roadmaps across acquisition, base, and transactional teams.
Provide insights and support for business and product marketing teams.
Primary point of contact between internal business intelligence teams and external agencies to support a regular cadence of campaign readouts, including meaningful insights and future campaign improvements.
Develop and present executive readouts to senior leadership and across Verizon on testing plans and results.
Maintain a central repository of research and test results for cross-functional access.
Lead a team of 4 managers who will support campaign managers in the identification of appropriate test or research design, developing statistically valid and readable test plans, and implementation to drive performance improvement.
Develop and manage campaign benchmarks and campaign performance objectives.
Job Requirements:
Bachelor's degree or four or more years of work experience.
Six or more years of relevant work experience.
Six or more years of experience in campaign management including campaign design and optimization.
Experience in developing and leading research and testing design.
Experience building measurable campaign test plans.
Willingness to travel.
Preferred Skills:
Experience managing teams and working in a matrixed organization.
Demonstrable computer skills, including proficiency with Microsoft Office software (Word, Excel, Powerpoint, etc.), database applications and proven analytical abilities.
Qualitative and Quantitative research experience.
Experience building and executing integrated marketing campaigns.
Experience working efficiently and meeting deadlines in a cross-functional, team-based environment.
Excellent interpersonal, oral, and written presentation skills.
Experience working in strategic planning or research.
When you apply, don't forget to mention that you found this Job Post on JobsRepo.com