Senior Java Software Engineer | 5 Yrs | Pune
Experienced
Full Time
Experience: 5 Years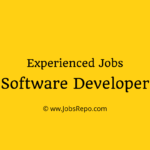 Website Finastra
Job Description:
The Java Developer is responsible for system developments and performs assignments associated with very basic to advanced development/design or process technologies.
The Java Developer is responsible for developing high-quality products, simple to complex analysis requirements that are aligned with the standards and procedures of Finastra.
He or she successfully deploys/solves complicated application problems in which the Development Group is involved, and manufactures components or subsystems for Finastra products.
The Java Developer will work on a very Business domain code and will gain lots of electronic payments knowledge.
Job Roles and Responsibilities:
Responsible for designing and implementing system architecture components
Responsible for completing specific, detailed steps of programming analysis, transforming design specifications into a specific description
Implement assigned software components utilizing the tools and programming languages selected for a given project and platform
Job Requirements:
Relevant academic background – degree in computer science or any other exact science degree.
At least 5 years of Java development
Excellent knowledge and Experience in Core Java, J2EE, Spring, Spring Boot, Hibernate, JPA, JTA, GIT – must.
JUnit, TDD – must
Experience with SQL language – Must
Angular, XMLBeans, Web Services, XML, XSD, JSON SCHEMA, YAML, MQ, JMS, WebSphere/WebLogic – preferred.
Strong technical and analytical skills awareness of software engineering processes in the design, code, testing, etc.
Ability to work under less supervision
Knowledge of the Payments domain is highly preferred
Java Scripts, Ajax, JSP, Servlet, Tag Library, XSLT – preferred
Kafka, Microservice, Azure DevOps – preferred
When you apply, don't forget to mention that you found this Job Post on JobsRepo.com