Senior Automation Engineer | 6+ Yrs | USA
Experienced
Full Time
Experience: 6+ Years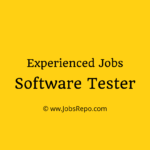 Website VMware
Job Roles and Responsibilities:
Leading the day-to-day activities of the System Test in an Agile/Scrum environment.
Design and maintain test strategies for comprehensive, customer-focused end to end testing.
Build maintainable, high quality and effective automated tests on top of various automation tools and frameworks, to execute complex tests on a distributed system
Review and triage test failures and verify fixes
Work with team to analyze code coverage using industry standard tools
Be an active participant in planning and designing product features with the ability to view the application from a customer perspective
Provide strong testing, debugging and documentation skills, be self-motivated and proactively manage time and tasks
Analyzing quality data, identifying areas of improvement and implementing solutions.
Job Requirements:
Excellent understanding of all aspects of quality assurance, customer advocacy, automation tools, software development in a large-scale enterprise environment.
Experience developing and using automation frameworks for regression/system level testing in Linux, Web, SaaS environments.
Experience developing system level testing for complex environments to focus on stress, scalability, destructive testing, customer scenarios, and system integration (including partners, and customers)
Strong coding skills (Python preferred)
Good working knowledge of web applications and RESTful APIs and the related testing platforms
Strong Experience with build and delivery systems such as Jenkins, Git, Apt, Docker, etc.
Experience working with Support and escalation organization during critical escalations and feeding back (RCA) learnings to test organizations
Experience with leading the everyday activities of a global engineering team using Agile/Scrum processes.
Experience with distributed systems and/or Cloud technologies
Knowledge & Skills:
Self-Starter – Thrive in a fast paced and changing environment.
Strong collaboration skills with a "Team First" mentality.
Technical engineering excellence, innovation in everything you do.
"Growth" mindset in tackle problems and creating great solutions.
Excellent written and verbal communication skills
6+ years' experience in an equivalent role
When you apply, don't forget to mention that you found this Job Post on JobsRepo.com