Senior Application Developer | 5+ Yrs | USA
Experienced
Full Time
Experience: 5+ Years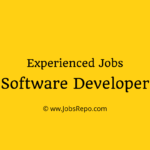 Website ADP
Job Roles and Responsibilities:
Participate in relevant aspects of the Software Development Life Cycle (SDLC), including planning, constructions, testing, reviews, and demonstrations. Develop and review software requirements, create design documents, write programs, and package, test, configure, and deploy software. Work with clients, product managers, analysts, architects, and engineers to plan, design, develop, test, and implement information technology solutions. Develop and enhance software programs and data structures that meet business objectives. Design, develop, test, and refine software deliverables. Review and create system, software, and functional design specifications.
Job Requirements:
Bachelor's degree in Computer Science, Computer Engineering, Information Systems, related Engineering discipline or a related field plus five (5) years of related experience. Employer will also accept a master's degree plus two (2) years of related experience.
Experience and Qualification:
Two (2) years of experience must include: C#; SOA; OOAD; OOP; JavaScript; Microsoft Technology Stack; TFS IDE; Server-side application frameworks; Restful and SOAP-based web services, including JSON and XML; Unit testing; SQL Data Store; Agile Methodology; and Scrum.
When you apply, don't forget to mention that you found this Job Post on JobsRepo.com