Scrum Master, Experian Consumer Services | 4+ Yrs | USA
Experienced
Full Time
Experience: 4+ Years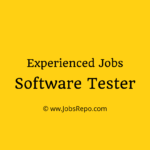 Website Experian
Job Description:
As well as having responsibility for fostering change within agile teams you are leading, you will also be accountable for delivering our wider agile maturity improvements across all your teams. This includes supporting other teams and scrum masters / change agents in improving everyone's agile maturity.
The Scrum Master serves the Scrum Team in several ways, including:
Coaching the team members in self-management and cross-functionality;
Helping the Scrum Team focus on creating high-value output that meet the Definition of Done;
Causing the removal of impediments to the Scrum Team's progress; and,
Ensuring that all Scrum events take place and are positive, productive, and kept within the timebox.
The Scrum Master serves the Product Owner in several ways, including:
Helping find techniques for effective Product Goal definition and Product Backlog management;
Helping the Scrum Team understand the need for clear and concise Product Backlog items;
Helping establish empirical product planning for a complex environment; and,
Facilitating stakeholder collaboration as requested or needed.
The Scrum Master serves the organization in several ways, including:
Leading, training, and coaching the organization in its Scrum adoption;
Planning and advising Scrum implementations within the organization;
Helping employees and stakeholders understand and enact an empirical approach for complex work; and,
Removing barriers between stakeholders and Scrum Teams.
Job Requirements:
CSM, PSM or other well-known professional Scrum Master certification
Four + years experience in a full-time scrum master role in an enterprise-level software development environment
Strong and demonstrated experience using the fundamentals of Agile development including measurable process improvement
Ability to interact professionally and confidently with colleagues at all levels, including senior and executive management with clear and confident communication and presentation skills
Ability to work effectively both independently and as part of a team
Experience using Atlassian application suite (Confluence, JIRA)
Job Benefits:
During this pandemic, all Experian employees are working remotely. Once it's safe to do so, we'll slowly return to our offices however we are in no rush to do this. The safety of our employees is of utmost importance.
Three weeks of vacation to start, five sick days and two volunteer days (plus twelve paid holidays)
Competitive pay and comprehensive benefits package, with a bonus target of 15%
Flexible work schedule and relaxed dress code
When you apply, don't forget to mention that you found this Job Post on JobsRepo.com