Scrum Master | 2+ Yrs | Gurgaon
Experienced
Full Time
Applications have closed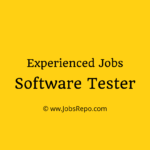 Job Roles and Responsibilities:
Act as a Scrum Master for a cross-functional agile team, facilitate team ceremonies such as daily stand-ups, release planning, backlog refinement, demos and retrospectives.
Work in close collaboration with other Scrum Masters, Product Owners and Project Managers.
Facilitate collaboration with internal and external stakeholders, removing team impediments.
Support the team to improve their agile way of working and improve its performance.
Drive improvements by coming up with new insights related to our products and processes.
Build, coach and motivates the team to achieve an open and encouraging team-atmosphere.
Work closely together with the design team members, application engineering, and product engineering teams in the organization.
Get involved on the technical aspects of the teams work
Job Requirements:
Experience in working in Scrum for at least 2 years
Knowledge of Agile Methodologies, Scrum, XP, Kanban, Lean.
Knowledge of various well-documented patterns and techniques for filling in the intentional gaps left in the Scrum approach (example: numerous Burndown technologies, various Retrospective formats, handling bugs)
Good analytical & problem solving skills.
Excellent communication, facilitation and conflict resolution skills.
To be forward-thinking and willing to take challenges.
Adapting to the business landscape and time zones.
Participate in establishing practices, templates, policies, tools.
Have a strong technical background, and experience in software development.
BSc or MSc in Computer Science, Electrical Engineering or equivalent is required.
Proficiency in English, both written and spoken.
Preferred Skills:
Prior hands-on experience in developing and deploying Microservices solutions.
Knowledge on Java, JIRA, Debugging: GDB, sanitizers, valgrind
Basic  familiarity with version control systems (GIT)
Demonstrate functional acumen on how the solution will address the customers' requirements.
Experience with some of the following technologies: Docker, Kubernetes, Helm, Jenkins, Linux, Spinnaker, K6 Testing.
Product Ownership experience.
Knowledge of telco business and relevant experience.
Scrum Master certification.(BDGS SD MANA)
Education:
Bachelor's Degree in engineering/MBA/MCA.
When you apply, don't forget to mention that you found this Job Post on JobsRepo.com