RFFE Bench Test Development Engineer, Staff | 5+ Yrs | USA
Experienced
Full Time
Experience: 5+ Years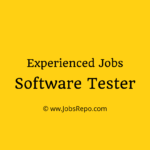 Website Qualcomm
Job Description:
In order to drive our next phase of growth in cellular using 4G/5G technologies, we are expanding the Bench Test Development team focused on RF Front End (RFFE) devices. This team is responsible for developing QUALCOMMs leading edge RFFE products including Power Amplifiers, LNAs, Switch/Tuners, etc. in the most advanced processes. In this role you will own the below responsibilities:
Job Roles and Responsibilities:
Automated Test solutions development for RFFE products
Design & Debug of Test interface Hardware & Software
Hardware & Software Integration
Test solution development (Hardware/Software) for Bench/ATE platforms.
System Performance correlation.
Statistical data analysis.
The individual selected for the position needs to be proactive, able to work in a fast-paced dynamic environment, enthusiastic to work at times as an individual contributor and be passionate about delivering quality work.
Job Requirements:
The ideal candidate would have 5+ years of experience in the following areas:
Experience in RF test methodology development and implementation using LabVIEW, .NET or C#.
Good understanding of electronics engineering fundamentals, RF circuits and RF performance metrics (NF, Sensitivity, Intermodulation, Tx Power, ACLR, EVM, S-parameters)
Basic understanding of RF measurement methodology, Bench Test solution architecture, RF component evaluation and Device characterization
Hands-on knowledge of RF instrument operation: Signal Generators, Spectrum Analyzers, Power meters, Network Analyzers etc.
Experience in analyzing RF Transceiver/RF Front-End device datasheets, creating test plans and test execution
Handler, PCB, RF module (SW/ TRX components) & socket design development and operation experiences in a production environment.
Programming (.NET, C#, Python scripting, LabVIEW) and debugging skills
Experience working with Perforce, GIT, or other Source Control SW
Experience with RFFE product specifications, PA/LNA development required.
Physical Requirements
Frequently transports between offices, buildings, and campuses up to ½ mile.
Frequently transports and installs equipment up to 5 lbs.
Performs required tasks at various heights (e.g., standing or sitting).
Monitors and utilizes computers and test equipment for more than 6 hours a day.
Continuous communication which includes the comprehension of information with colleagues, customers, and vendors both in person and remotely.
Experience and Qualification:
Bachelors – Computer Science, Bachelors – Engineering, Bachelors – Information Systems
5+ years Hardware Engineering experience or related work experience.
When you apply, don't forget to mention that you found this Job Post on JobsRepo.com