Quality Test Engineer III | USA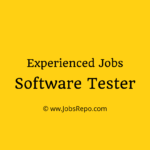 Website RELX
Job Description:
As a Quality Test Engineer III, you'll be a vital member of the Report Asset Delivery squad looking to drive best quality test and deployment practices forward. This will be through enhancing quality aspects ensuring high-quality software delivery is achieved, designing and implementing tests, and developing and maintaining CI/CD deployment pipelines. You'll be a key part of the project's delivery and activities.
Job Roles and Responsibilities:
Operate in an agile development environment while collaborating with key stakeholders.
Maintain low lead times and high deployment frequency.
Act as Change Champion on squad to implement process improvement ideas.
Monitor environment status day to day.
Proactively engage on environment issues across supported systems.
Own the testing process start to finish.
Own the release process.
Work with other QA on other squads to reduce testing gaps between products/services.
Keep abreast of new technology developments.
Job Requirements:
Proficiency with the Unix environment.
Proficiency with Node, Javascript, React and Typescript
Proficiency with Playwright and Jest
Proficiency with Spring Boot, Groovy and Python.
Proficiency with Jenkins, Zephyr
Familiarity with containers and distributed applications.
Familiarity with industry best practices and software testing (UI & API).
Basic knowledge of agile software development methodologies.
Knowledge of test-driven development.
Ability and desire to learn new processes and technologies.
Preferred Skills:
HIPAA compliant products
AWS, New Relic
Performance testing
When you apply, don't forget to mention that you found this Job Post on JobsRepo.com