Quality Automation Specialist | Chennai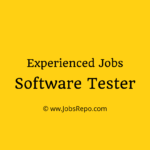 Website NatWest
Job Roles and Responsibilities:
Supporting the design of automation test strategies, aligned to business or programme goals
Evolving more predictive and intelligent testing approaches, based on automation and innovative testing products and solutions
Collaborating with stakeholders and feature teams and making sure that automated testing is performed and monitored as an essential part of the planning and product delivery
Designing and creating a low maintenance suite of stable, re-usable automated tests, which are usable both within the product or domain and across domains and systems in an end-to-end capacity
Applying testing and delivery standards by understanding the product development lifecycle along with mandatory, regulatory and compliance requirements
Job Requirements:
We're looking for someone with experience of automated testing, particularly from an Agile development, CI or CD environment. You'll be an innovative thinker who can identify opportunities and design solutions, coupled with the ability to develop complex automation code.
You'll have a good understanding of Agile methodologies with experience of working in an Agile team, with the ability to relate everyday work to the strategic vision of the feature team with a strong focus on business outcomes.
We'll also look for you to have:
Experience in end-to-end and automation testing using the latest tools as recommended by the enterprise tooling framework
A background of designing, developing and implementing automation frameworks in new environments
Excellent communication skills with the ability to communicate complex technical concepts to management level colleagues
Good collaboration and stakeholder management skills
When you apply, don't forget to mention that you found this Job Post on JobsRepo.com