Quality Assurance Tester II – 100% remote | 3 – 5 Yrs | USA
Experienced
Full Time
Experience: 3 - 5 Years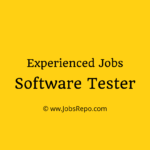 Website Dun & Bradstreet
Job Description:
In this role, you'll own the testing of product enhancements, bug fixes, and other features of our global sales & marking applications.  You'll spend part of your time manually testing new features and part of your time writing new Ruby/Watir automation for recently released features.
You'll help us maintain existing suites running in Jenkins and expand their coverage as new features are developed.  Your inherent curiosity and tenacity will drive you to try new things, dig into features to wring out the bugs, and work closely with Development and Product Management to fully understand what you're working on.
You'll share your knowledge & experience as a valued team member, and learn from others through pair programming, code reviews, application deep dives, and other sharing sessions.
Job Roles and Responsibilities:
Take ownership of new features by writing comprehensive test cases and executing manual tests
Write automated tests for recently released features and other items in our automation backlog
Collaborate with others in QA, Development, or Product to ensure nothing is left out or forgotten, and you raise it up if you find it
Take part in our regular release activities, including running smoke and regression tests – both automated and manual – and being the lead for QA in our deployment when it's your turn in the rotation.
Be an active member of the team to share your knowledge and be enthusiastically open to learning from others
Share your ideas on process improvement, innovation, test approach, and other ways to make us an even better team
Team up with our Technical Support team when you can to help troubleshoot complex customer issues
Job Requirements:
3-5+ years QA experience testing web applications
3-5+ years of experience writing test automation in a scripting language like Ruby, Python, or JavaScript (Ruby/Watir preferred)
Experience writing behavior-driven automation like Cucumber
Experience exercising parts of an application through API calls, either via Postman, cURL commands, or automation like RestClient
Familiarity with TestRail
Exposure to Jenkins
Comfortable with Linux/OSx
Familiarity with CRMs like Salesforce or Microsoft Dynamics
Understanding of complex applications and their interactions with integrated products
When you apply, don't forget to mention that you found this Job Post on JobsRepo.com