Quality Assurance Engineer (QA Engineer) | 3+ Yrs | USA
Experienced
Full Time
Experience: 3+ Years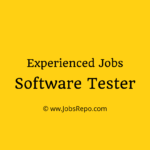 Website Amadeus
Job Roles and Responsibilities:
Develop end-to-end test plans and own the certification of software before it reaches our customers.
Planning and estimation of manual and automation feature deliverables.
Create and maintain test plans, test cases and automation test scripts.
Execute a mixture of manual test cases, API and UI automated scripts and exploratory testing for web and API based applications and reporting test results.
Log and track issues and bugs in defect management system.
Apply automation to improve efficiency and effectiveness of the testing process.
Work alongside developers to reproduce defects in test environments.
Collaborate with engineering to create an in-depth approach to testing – from unit to end-to-end testing.
Assist with testing non-functional requirements – performance, security and resiliency.
Validation of database changes via SQL query.
Validation and execution of linux commands to support deployments.
Participate to Agile forums (Standups, Sprint planning, Grooming, Sprint demo, Sprint retrospective, Product Increment Planning…)
Estimate, analyze and communicate work effort.
Maintain Rally tickets up to date at all times.
Lead demonstration of delivered functionality to Scrum teams for sprint closure
Work with product team and business analyst to learn and understand user needs.
Job Requirements:
Education: Bachelor's Degree in Computer Science or related field
Relevant Work Experience:

Minimum 3 years of experience as a quality assurance tester
Minimum 1 years of experience in test automation

Business Understanding:

Knowledge of travel industry and hospitality in particular is a plus.
Experience of CRM products and/or email marketing products is a plus.

Skills:

Computing:

Must:  Postman/SoapUI/RestAssured API testing, API Automation, basic Linux command knowledge, cross-browser and device testing, defect tracking system (Rally preferred)
Preferred: Selenium, Swagger/OpenAPI, Git/BitBucket.
Must:  XML, JSON, SQL basics (MySQL and Oracle preferred)
Preferred:  Core Java basics, Groovy

Language: English fluent
Specific Knowledge:

Must:  A working knowledge of the SDLC.  Optional: Experience with cloud (GCP, Azure), experience with queuing and caching systems

Other: Must: Experienced with Agile methodologies
When you apply, don't forget to mention that you found this Job Post on JobsRepo.com