Quality Analyst | Chennai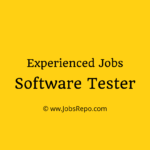 Website NatWest
Job Description:
As a Quality Analyst, you'll be assisting the feature team to define testable work that is technically robust, high performing, stable and secure, and ensures excellent customer experiences and outcomes. Promoting continuous improvement, you'll identify opportunities to maximise the customer experience and reduce the test cycle time by improving techniques, tooling, eliminating waste and creating a collaborative, proactive approach to quality in the feature team.
Job Roles and Responsibilities:
Supporting your Quality Manager and team in executing against the test strategy and quality by determining and advising which tests should be automated at which layer
Encouraging the identification of ideas and driving the delivery of initiatives that will reduce cost and simplify the bank
Supporting your team and Quality Manager through the life cycle
Building and leveraging relationships with all stakeholders, making sure that decisions are commercially focused and create a long-term value for the bank
Job Requirements:
We're looking for someone with an extensive understanding of the systems development life cycle. You'll have experience of delivering testing activities in an IT function, with proven application of a wide range of testing automation tooling.
Along with this, you'll have experience of testing methodologies, including a range of Agile testing methods such as test driven development and behaviour driven development. We'll also look to you to have the ability to relate everyday work to the strategic vision of the feature team with a strong focus on business outcomes.
You'll have at least seven years' experience in mainframe testing in mainframe environments and you'll be well versed with SDLC phases and models. You'll have experience in COBOL, JCL, DB2, CICS, File-AID, TSO/ISPF, and IBM MVS, and you'll have the ability to design test scenarios and scripts. You'll also be well versed with the different testing methodologies, techniques and phases. Automation skills covering SILK4J and Selenium would be useful.
Preferred Skills:
Experience of service testing, and testing ideas, products, designs, planning and execution
A background in Selenium or SILK and rest services testing
Experience in functional and non-functional testing such as system, system integration, user, load, volume, stress, security, accessibility, compatibility, penetration and back-out
The ability to accept and deliver assistance to meet deadlines, multi-task, and shift priorities to meet business needs
Demonstrable knowledge of Agile methodologies with experience of working in an Agile team
A very capable communicator with the ability to communicate complex technical concepts clearly to your peers and management level colleagues
When you apply, don't forget to mention that you found this Job Post on JobsRepo.com