Quality Analyst | Chennai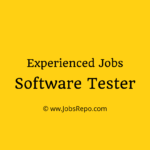 Website NatWest Group
Job Description:
As a Quality Analyst, you'll be assisting the feature team to define testable work that is technically robust, high performing, stable and secure and ensures excellent customer experiences and outcomes. Promoting continuous improvement, you'll identify opportunities to maximise the customer experience and reduce the test cycle time by improving techniques, tooling, eliminating waste and creating a collaborative, proactive approach to quality in the feature team.
You'll be working within a feature team to plan and manage the work necessary to perform and monitor testing for work packages, making sure defects are detected at the earliest possible moment to make sure customer outcomes are delivered right first time.
Job Roles and Responsibilities:
Supporting the Quality Manager and the team in executing against the test strategy and quality by determining and advising which tests should be automated at which layer
Making sure that test plans are adequately covered by test scenarios
Creating different test and automation suites, such as smoke tests, full regression and progression tests, and end-to-end system regression tests
Analysing the results of automated tests
Providing data to the business and the team that focuses on quality and quality improvement
Knowledge & Skills:
We're looking for someone with an extensive understanding of all stages of the product or service life cycle. This will include in-depth and hands on experience in areas such as product testing, static testing, systems testing, systems integration testing, user acceptance testing, compliance testing and operational readiness testing.
Along with this, you'll have experience of applying a wide range of testing automation tooling, as well as testing methodologies, including a range of Agile testing methods such as test driven development and behaviour driven development.
Preferred Skills:
An awareness of the end to end lifecycle for testing phases
Practical experience of testing ideas, products, designs, planning and execution
Experience in functional and non-functional testing such as system, system integration, user, load, volume, stress, security, accessibility, compatibility, penetration and back-out
Demonstrable knowledge of Agile methodologies with experience of working in an Agile team
A very capable communicator with the ability to communicate complex technical concepts clearly to your peers and management level colleagues
Good collaboration and stakeholder management skills
When you apply, don't forget to mention that you found this Job Post on JobsRepo.com