QA Tester | 2 – 4 Yrs | Mumbai
Experienced
Full Time
Experience: 2 - 4 Years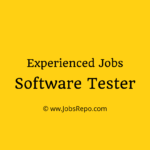 Website Orange
Job Roles and Responsibilities:
Analyzing users stories and/use cases/requirements for validity and feasibility
Collaborate closely with other team members and departments
Execute all levels of testing (System, Integration, and Regression)
Drafting the QA test procedures and documentation
Detect and track software defects and inconsistencies
Timely responding and follow-up with the all stakeholders.
Apply quality engineering principals throughout the Agile product lifecycle
Strong in English communication (Read, Write and Speak)
Preparing and implementing quality assurance policies and procedures
Design and develop automation scripts when needed
Identifying and resolving workflow and production issues.
Ensuring that standards and safety regulations are observed.
Manage the task independently
Addressing and discussing issues and proposed solutions with superiors.
Documenting quality assurance activities and creating audit reports.
Making recommendations for improvement.
Job Requirements:
Thorough knowledge of QA concept and Certificate in quality assurance
Working knowledge of tools, methods, and concepts of quality assurance.
Should have experience on Manual and Automation testing
High-level analytical skills
Experience with Scrum/Agile software development methodologies desired
Great interpersonal and communication skills and experience in International client communication
Should have knowledge of TFS repository
Excellent data collection and analysis skills
Able to create logical, well-structured test designs
Creativity in test design and finding bugs
Logical approach to problem solving and troubleshooting of complex systems
Ability to work in a fast-paced environment with minimal supervision
Critical thinker and problem-solving skills
Preferred Skills:
Desired Experience: 2-5 years
Certification :

QA Certification
Candidate needs to have experience with both application and web-based testing backgrounds in web-based (portal-based) projects.

Education :

BE/B.Tech in Computer Science. or MCA

Technology :

Software QA – Web Application /Portal
When you apply, don't forget to mention that you found this Job Post on JobsRepo.com