QA Software Engineer( Automation ) | 3+ Yrs | USA
Experienced
Full Time
Experience: 3+ Years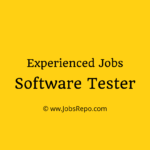 Website KLA
Job Description:
 The selected Software Quality Engineer will join a world-class software team to plan, manage, execute, and report results for all testing activities for the team. Person will be an effective team player and leader that will be responsible for the quality of all released products. Person will be a strong process advocate with an acute attention to detail and desire to continually improve the testing process. Person must be able to partner with other functional teams to resolve quality issues quickly.
Job Roles and Responsibilities:
Understand IC Design and its use in developing wafer inspection solutions and test cases.
Participate in software development life cycle with an understanding on how to establish test scenarios to validate functionality and robustness of the software releases.
Develop detailed test cases covering all forms of testing

(functional/requirements

based, regression, performance, reliability) for complex systems
Collaborate with Software, System and Application Engineers to develop test plans. Execute manual and automated test cases in Software UI, machine control, algorithms of complex systems.
Willing to work with global team members across multiple time zones on a daily basis
Ability to technically interact with Algorithms, System Engineering, Application Engineering, Marketing and Manufacturing, Customer Support team for various needs across the globe.
Represent SQE team in product life cycle and key program meetings
Performs verification of software requirement allocations, traceability, and testability.
Ensures that corrective measures meet acceptable quality standards.
Ensures that project and process control documentation are compliant with requirements.
Responsible for developing, applying, and maintaining quality standards for company products.
Gain

systems/applications-engineering

level knowledge of highly complex, leading edge products by working with cross functional team during the product development process.
Job Requirements:
Experience testing applications written in languages such as C#, C++
Experience work with a defect/feature tracking system such as Azure DevOps, JIRA
Master's Level Degree with 1 year work experience or Bachelor's Level Degree with 3 years work experience.
When you apply, don't forget to mention that you found this Job Post on JobsRepo.com