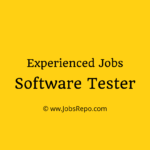 Website Finastra
Job Description:
Creates and executes product test plans to ensure software products meet design specifications and product quality standards.  Assists Development team with process improvements to improve product quality.  Communicates with stakeholders on software issues.
Job Roles and Responsibilities:
Create test cases from product specifications.
Executes test plans and test cases and compiles results.
Sets up and maintains personal testing environments.  May set up team testing environments.
Assist in the review of software development processes to improve product quality.
Tracks defects from detection to resolution and works with developers to reproduce and resolve defects.
Communicates with stakeholders on product issues.
Acquires and maintains knowledge of existing products, operations or systems.
Reviews product documentation to ensure completeness and accuracy.
Provides support to stakeholders prior to GA release of software.
Create and/or run scripts to populate data and validate test results.
Design, develop, and maintain test scripts to be automated.
Provide testing effort estimates for enhancements.
Other duties and projects as assigned.
Knowledge & Skills:
Global Mindset: diversity of thinking, propel innovation, understand regional nuances and subtleties
Assessing and managing strategic risks: ability to seize opportunities in a complex environment
Fast, flexible and agile decision-making: streamline, simplify and shorten the decision making process, manage ambiguity well.
Analytical: Sound analytical and problem solving skills as well as proven time management skills.
Job Requirements:
Read and understand requirement & solution documents
Prepare & Review Test cases, Test scenarios
Test Execution, Defect reporting, Defect Analysis & Tracking till closure
Exposure to DevOps activities or minimal knowledge in that area
Simulation & Triage of issues raised by customers
Address functional queries from various stakeholders
Follow testing plan/schedule & adhere to quality processes
Should be able to provide production support whenever needed.
Experience in automation and manual testing of software applications/packages in banking domain.
Expertise in banking domain would be an added advantage.
SQL knowledge.
Knowledge of testing processes & activities.
Knowledge of Selenium automation with C#
Knowledge of Azure DevOps.
Experience in testing API's and working knowledge of Postman.
Exposure to client support
Good communication skills – verbal & written
Bachelor's degree in related field or equivalent work experience.
Preferred Skills:
Ability to receive, express, or exchange detailed information through oral and written communication.
Position involves mostly sedentary work, exerting a negligible amount of effort to lift, carry, push, pull, or otherwise move objects.
Ability to see and operate a computer.
Work is performed in a general office environment.
When you apply, don't forget to mention that you found this Job Post on JobsRepo.com