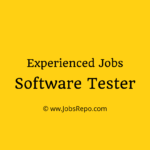 Website Finastra
Job Requirements:
C, C++ development, sound understanding of UML and OOAD.
SQL skills are required, DB2, MS SQL and Oracle are desirable.
Stored Procedure development for MS SQL, Oracle and/or DB2 is desirable.
Experience with both Linux and Microsoft Windows operating systems is required.
Basic understanding of Core Java, SOA/Web services, JSON and XML concepts.
Strong Design Skills.
Job Roles and Responsibilities:
Design and Development of new enhancement features for Loan IQ
Maintenance of current CPP modules.
Picking up functional knowledge on Lending.
Participation in Client demo.
When you apply, don't forget to mention that you found this Job Post on JobsRepo.com