QA Engineer | 3 – 5 Yrs | Bangalore
Experienced
Full Time
Experience: 3 - 5 Years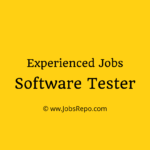 Website Neustar
Job Description:
The Business and Quality Assurance Analyst is a key role that has a strong understanding of the business needs, is able to clearly articulate these needs with the engineering teams and is able to assess the quality of deliverables of this team against the business needs. The Business and Quality Assurance Analyst is part of a highly skilled team that designs and develops the next generation data products and platforms at Neustar. The role is based out of India at the Neustar's offices in either the Bangalore or Hyderabad locations. This role will report to the Senior Engineering Manager.
Job Roles and Responsibilities:
Understanding the vision, the strategy and the roadmap for the products and services and distilling the requirements from a business, technology and operations perspective
Documenting and analyzing the requirements to translating those into a number of specifications ranging from UI/UX, APIs/Services, Rules, Business Logic, Data, Analytics and Reports
Collaborate with the product managers, engineering teams and operations resources to ensure end-to-end alignment from features to roadmap to specifications to design to development to implementation
Validate and test the quality of the deliverables from the engineering team and be the internal user acceptance lead for each deliverable
Job Requirements:
Bachelor's degree in computer science or engineering discipline
3-5 years of experience in business analysis and quality assurance domains in product and high tech information technology driven organizations
Experience participating and leading the scrum process in agile teams with documentation of product and platform releases, epics and user stories
Expertise in soliciting and documenting requirements and analyzing those to distill specifications for the engineering and operations team
Hands-on experience with various requirements and specification gathering methodologies and tools
Hands-on experience in wire-framing or prototyping user interface to facilitate design discussions and rapidly iterate the product development
Hands-on experience with various quality assurance tools for executing both manual and automated testing of engineering deliverables
Fast executor with a track record of delivering complex projects on time; responds under pressures of time and uncertainty
Exceptional written, editing, proofreading, and oral communication
Exceptional inter-personal communication and collaboration skills
Preferred Skills:
Experience in the data and analytics field in the marketing/advertisement and/or information security technology domains
Experience in the marketing/advertisement space with any one of key business domains – retail, telecom, travel and hospitability, health care, packaged consumer goods etc.
When you apply, don't forget to mention that you found this Job Post on JobsRepo.com