QA Engineer | 2 – 4 Yrs | Bangalore
Experienced
Full Time
Experience: 2 - 4 Years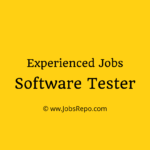 Website HPE
Job Roles and Responsibilities:
Designs limited enhancements, updates, and programming changes for portions and subsystems of systems software, including operating systems, compliers, networking, utilities, databases, and Internet-related tools.
Analyzes design and determines coding, programming, and integration activities required based on specific objectives and established project guidelines.
Executes and writes portions of testing plans, protocols, and documentation for assigned portion of application; identifies and debugs issues with code and suggests changes or improvements.
Participates as a member of project team of other software systems engineers and internal and outsourced development partners to develop reliable, cost effective and high quality solutions for assigned systems portion or subsystem.
Collaborates and communicates with internal and outsourced development partners regarding software systems design status, project progress, and issue resolution.
Weekly status update to all the stake holders.
Accountable for test case creation / execution / ALM update.
Able to talk to HPE partners and different teams to explain the issues clearly.
Capable of triaging and root causing the medium to complex storage issues.
Configuring and maintain the SAN environment.
Job Requirements:
Bachelor's or Master's degree in Computer Science, Information Systems, or equivalent.
Typically 2-4 years' experience.
Knowledge & Skills:
Knowledge on OS installation and ease of working with different OS flavors. (Windows/Linux/VMWare)
Experience of testing IO device drivers/HBAs
Knowledge of FC protocol
Experience of working under SAN environment
Basic knowledge of server hardware and configuration
Python / Shell script or any other test automation language is a plus.
When you apply, don't forget to mention that you found this Job Post on JobsRepo.com