QA Automation specialist – Synergy FLM | 7 – 9 Yrs | Bangalore
Experienced
Full Time
Experience: 7 - 9 Years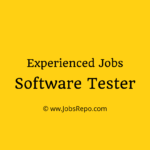 Website HPE
Job Description:
Develop, modify, and execute software test strategies, plans and suites. Analyze and write test standards and procedures. Analyze test results to ensure existing functionality and recommend corrective action. May develop tools and environments to automate test execution.
Job Roles and Responsibilities:
Design quality assurance and test process for portions/subsystems of end-user applications, systems software, and firmware running on hardware, local, networked, and Internet-based platforms
To Develop Test Cases, Scripts for features for Server Platform based features
Analyze, design and test scripts; Coding, automation, and integration activities based on general objectives and knowledge of overall architecture of product or solution.
Write and execute complete test plans; Identify, debug and create solution for issues/defects in software and firmware product/solution
Work/Coordinate with other software quality assurance engineers and internal/outsourced development partners to develop reliable and cost-effective testing and quality assurance solutions for assigned applications/subsystem/solution
Collaborate and communicate with management, internal/outsourced development partners for test plans, project progress, and issue resolution
Represent the software quality assurance team for all phases of larger and more-complex development projects.
Provide guidance and mentoring to less-experienced team members.
Maintain documentation of test results/details to assist in debug and modification of software.
Recreate the set up to reproduce the customer found defects
Job Requirements:
Bachelor's or Master's degree in Computer Science, Information Systems, or equivalent
Minimum 7-9 Years' experience.
Required Knowledge and Skills
Software testing methodology, including writing and execution of test plans, debugging, and testing scripts and tools
Working experience with Server, Storage on Networking products would be a plus
Good Knowledge in automation framework, Perl & python scripts.
Strong logical, analytical and problem solving skills
Experience with design for software and firmware running on multiple operating systems, virtualization environments.
Excellent written and verbal communication skills.
When you apply, don't forget to mention that you found this Job Post on JobsRepo.com