QA Automation engineer with Selenium and Java | 2 – 4 Yrs | Bangalore
Experienced
Full Time
Experience: 2 - 4 Years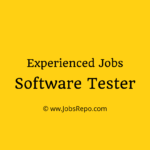 Website FICO
Job Description:
You will need to be an experienced test automation engineer interested in the challenges of creating highly scalable web services that work equally well on-premises and as SaaS on the FICO Cloud.
This role, as a member of a cross-functional Scrum team focused primarily on UI automation using Selenium, will suit an engineer with experience of automated testing of server applications and REST APIs, looking to enhance their skills while authoring innovative software within a Scaled Agile environment.
Job Roles and Responsibilities:
Work as part of scrum team, for product development work for upcoming releases.
Understanding requirements, user stories, create automation scripts and execute those once functionality is ready for testing.
Work with developers and functional QA to produce automated tests and maintain them on a go-forward basis.
Ensure ticketing system updated with testing progress and identified defects.
Communicate status as well as any issues\risks and escalate to Lead\Project Management in a timely fashion.
Automate test cases using Selenium, Rest assured and related frameworks.
Integrate test automation with Jenkins for nightly build execution.
Perform regression testing as required.
Participate in Sprint Planning, demo, DRB and team meetings.
Provide support as necessary for Product Support and Professional Services.
Job Requirements:
Bachelor of Engineering or MCA Qualified professional
Strong understanding of quality assurance best practices
Knowledge of QA in a web based application
2-5 years of mandatory experience in automation testing
Proficiency in Programming languages such as Core Java, Advanced Java (Java 8) , Selenium Web driver, is a must
Having knowledge on Protractor is an add-on
Having knowledge on JUNIT or Test NG is must
Proficiency in one of database management  for eg :Mongo db ,Oracle, My SQL data base is must
Proficiency in version control tool like Git is must
Exposure to API testing/ Web Services testing is an add-on
Proficiency in a scripting language such as linux shell scripting is an add on
Proficiency in JavaScript, HTML DOM structure or CSS is an add on
Familiarity with Agile software development lifecycle and test quality management tools e.g. QTest
Familiarity with Ticketing systems experience e.g. JIRA
Demonstrable experience of owning projects and tasks and taking responsibility for seeing them through to their conclusion
Experience of participating in the end to end release process for a software product would be an advantage.
When you apply, don't forget to mention that you found this Job Post on JobsRepo.com