Python JavaScript Automation Engineer | 6+ Yrs | USA
Experienced
Full Time
Experience: 6+ Years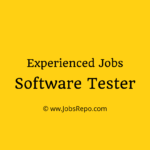 Website Verizon
Job Description:
We are looking for a Python developer who will be responsible for identifying, evaluating, and driving new opportunities through an expert-level comprehension of software design, APIs, and web technologies. You will be working with network engineers to build Devops automation solutions to solve problems and help manage the network.
You will be using the following technologies: Python 3 with sqlalchemy and flask on the backend. JavaScript on the frontend. Python network automation libraries including Netmiko, Napalm, Ansible, REST, Netconf. Redhat Openstack deployment environment, including HEAT template automation.
Job Roles and Responsibilities:
Build automation tools for Network Support and Operations.
Ensure everything we build is maintainable and ensure the team follows best practices with code versioning, testing, and programming\project methodologies.
Leverage expert level understanding of front-end and server-side application design to ensure tools are highly available, geographically redundant, reliable, and meet the growth requirements of a burgeoning network.
Simplify the complex by designing and implementing solutions and tools that are intuitive to Network Engineers and cater to Verizon iEN Operations.
Devise an intensive testing strategy for all new and existing components to ensure they are free of bugs and function as intended.
Provide guidance and mentorship to Jr. Developers through recognizing strengths and weaknesses.
Create a culture of inclusion and teamwork through leading by example and always considering how their actions influence the broader team.
Lead code review sessions with Jr. Developers and provide feedback / guidance.
Lead a team that designs, builds, tests, and deploys services and APIs that are integral to the operations toolkit.
Present and communicate progress on projects to other organizations and executives; demonstrate the Opex savings being delivered; and set an example for ushering in DevOps culture to Verizon.
Help mold the team through actively providing feedback to management on personnel needs, contractor needs, and any roadblocks.
Successfully partner internally and externally with peer organizations and vendors to provide architectural leadership and review existing services, APIs, and platforms.
Oversee and take accountability for compliance to all Verizon standards security through CPI-810, requirements for all Verizon built applications, adherence to privacy and data policies.
Job Requirements:
In this hybrid role, you'll have a defined work location that includes work from home and assigned office days set by your manager.
You'll need to have:
Bachelor's degree or four or more years of work experience.
Four or more years of relevant work experience.
Willingness to travel up to 25%.
Even better if you have one or more of the following:
Prior experience is required in development using Python and JavaScript.
Prior experience managing (manually or through automation) devices or systems is preferred
Linux/UNIX proficiency is required. Prefer some experience working with clouds (Azure/AWS/Google/Openstack).
A degree in Business Administration, Computer Sciences, Software Engineering, or EE or related field.
Knowledge of software architecture, programming languages, virtualization, and the networking layers.
Experience with SDN, Network Controllers, and NFV Orchestration \ VNF Management.
Good organizational skills and the ability to handle multiple work assignments simultaneously.
Three or more years' experience in the telco industry focused on technology.
Certification in OpenStack, Cloud Stack, or similar.
Ability to lead technical discussions with a group of individuals in the industry with varying technical positions.
Experience developing REST based web services.
Knowledge of Network Configuration Protocol (NETCONF), REST-CONF, and YANG.
Knowledge of NextGen Optical Networks, 5G, SDN, NFV, and other relevant technologies.
When you apply, don't forget to mention that you found this Job Post on JobsRepo.com