Python Developer | 5+ Yrs | Chennai / Bangalore / Pune
Experienced
Full Time
Experience: 5+ Years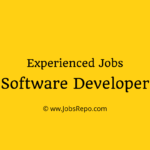 Website VMware
Job Description:
We are seeking a highly technical and customer-focused software developer to own the product development and enhancement work on the vCenter lifecycle components. Assignments may include new projects as well as some enhancements to existing products. As we continue to grow, our group is focused on developing the vCenter lifecycle on which all VMware products will be built. We are a dynamic highly-technical and growing team, so we are looking for someone who is willing to pitch in with the rest of the team. You will play a key role in building products for cloud platforms and on-prem on top of a public cloud and build services that are highly available.  VMware lifecycle products stack is accessible through RESTful APIs and uses various modern and cool technologies like containers, Kubernetes, Docker, Kickstart, SCM Systems and is written on different languages like C, C++, Python, and Go. We are welcoming quick learners and open-minded applicants who want to deep dive into technologies to solve hard lifecycle problems in a distributed environment.
Job Roles and Responsibilities:
You are passionate about developing new software, delivering quality software, and are driven by improving the customer experience.
You enjoy working with a fast-moving and highly technical group of engineers who will help you reach your fullest potential
You have extensive experience with writing robust/reliable automated tests that can stand the test of time.
Component development, framework development, and work on entire software lifecycle (req analysis, design, develop, test and maintenance).
Work closely with Engineers & architects to understand product changes, involve in product design, implementation, and validation.
Ensure our software meets feature, stability, performance, and backward compatibility requirements.
Understand the product and troubleshoot and provide root cause analysis for any reported issues
Develop virtualization technology-related new features
Ability to work on various projects with minimal guidance. Work as part of a team, be an excellent team player
Should have a good understanding of Software development as well as QE activities.
Job Requirements:
The candidate should have 8+ years total experience, should have 3+ years of working experience on Go/Python development.
Experience with frameworks such as REST API, Java, Angular, automation framework.
Very strong aptitude and problem-solving skills, analytical skills, good judgment, passion for your work. Proficient use of common design patterns
Ability to multitask and stay organized in a dynamic work environment.
Very good understanding of Networking (not just basic), VMware products, Virtualization, Datacenter configurations, and software.
Excellent verbal and written communication skills
Should have understanding in QE activities as well. Write test plans/ test cases for assigned features from functional specs using Python
Deep application knowledge of data structure and algorithm
Additional desired experience:
Using our toolsets: REST API, Python, Java for API level validation
Experience with containers
Experience with Kubernetes
Experience with SCM Systems like Salt, Chef, Puppet
Hands-on experience with VMware products like vSphere, VMware vCenter Server, ESXi hypervisor
Ability and willingness to learn new technologies quickly. Willingness to use different programming languages to address the specific product needs (Go, Ruby, Java, Python, C#, Bash Scripting, etc.)
Working knowledge on Amazon Cloud would be an advantage.
BE/MS in Computer Science or equivalent
When you apply, don't forget to mention that you found this Job Post on JobsRepo.com