Princ Engr-QA Test Automation | 6+ Yrs | Hyderabad
Experienced
Full Time
Applications have closed
Experience: 6+ Years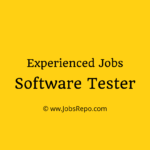 Job Roles and Responsibilities:
Working on improving Customer Experience for Omni Voice (IVR, Conversational Experience across different Voice platforms like Alexa & Multi Modal Experiences) by bringing in better process and solutions around identifying issues early in testing. Enable Experience & Behavioral practices by creating and defining various personas and enable the scenarios in Cyara automation tool in conjunction with Multi Modal Experiences.
Working with development teams/ SMEs to architect/ design/ develop tools that support QA automation using Cyara, Google Dialog Flow SDK & enhance/nurture end-to-end validation which support & enables various legs of IVR Testing on Avaya IVR Call Flows, Google Dialog Flow Conversational Voice Experiences, IVR Call Routing & CTI Screen Pops.
Enabling& design tools to suit new integrations of IVR experiences with Voice Biometrics, Adaptive Authentication/Push Based Authentications, Zenkey based Authentications.
Partnering with tools/automation engineers and managers to provide guidance, support and review the Testing SDLC – Test Case Authoring, Test Case Scripting/Automation, Test Case Execution, and Experience Validation & Performance Engineering.
Reviewing the architecture of the existing tools if needed and make them more efficient. Review the existing processes and come up with innovative solutions to make the processes efficient.
Participating in multiple meetings with IT owners, business owners and product or team members.
Documenting technical queries planning activities, onsite-offshore coordination and building work plans.
Should understand the org KPIs (Progression automation, automation efficiency, regression automation, CI/CD)
Diligently follow and accomplish the targets defined.
Innovating for process transformation and improving the overall delivery excellence by working through project dynamics.
Strong problem-solving skills with the ability to work independently to resolve complex issues in a timely manner.
Job Requirements:
Bachelor's degree or four or more years of work experience.
Six or more years of relevant work experience.
Six or more years of work experience in IVR andIVR automation projects
Experience with test-driven development (TDD).
Experienc with Behavior-driven development (BDD).
Experience in Cyara, Google Dialog Flow SDK, Java, Selenium (Using Element Locator, WebDriver methods, Data driven testing, keyword driven testing, Web Services – SOAP UI, SQL, Node JS, Java programming and TEST NG/Cucumber Annotations).
Experience with reusable component development.
Experience with automation tools.
Experience withdeveloping software test plans.
Experience withmanaging defects lifecycle using standard tools.
Experience with Agile and CI/CD pipeline.
Experience withDevOps Tool chain (Jenkins, qTest, JIRA, GitLab)
Experience with automation tools andframeworks.
Experience withdeveloping software test plans.
Experience withmanaging defects lifecycle using standard tools.
Knowledge of SDLC practices and methodologies – Agile, SWIFT Agile.
Knowledge on flow-based automation.
Knowledge on Database.
Preferred Skills:
Knowledge of performance engineering with exposure to tools like LoadRunner, JMeter, IT application performance analysis.
Written and verbal communication skills.
Ability to keep track of all defects resulting from testing, ensuring all high and urgent priority defects are reported on time.
Abilityto write SQLs and Procedures for testing needs.
Adept with test case management.
Ability to proactively communicate with others both within and outside of the immediate team to resolve issues and get questions answered as required.
Communication and presentation skills.
Experience in functional/usability testing and websites across different Voice channels, multiple browsers.
When you apply, don't forget to mention that you found this Job Post on JobsRepo.com