Performance Test Engineer I | 3 Yrs | USA
Experienced
Full Time
Experience: 3 Years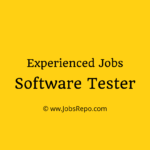 Website Black Knight
Job Description:
Developing level role requiring basic skills with a moderate level of proficiency. Maintain a record of test progress and test results. Generally performs single-function tasks that tend to be of small to moderate size and scope. Works under close to moderate supervision with limited latitude for independent judgment. Consult with senior peers on non-complex projects to learn through experience. Typically requires up to three (3) years of demonstrated experience in a technical quality assurance role.
Job Roles and Responsibilities:
Review functional and design specifications to ensure full understanding of individual deliverables.
Works with Micro Focus Performance Center.
Backend database testing in Microsoft SQL environment including validating stored procedures, jobs and triggers.
Identify test requirements from specifications, map test case requirements and design test coverage plan.
Develop, document and maintain functional test cases and other test artifacts like the test data, data validation, harness scripts and automated scripts.
Execute and evaluate manual or automated test cases and report test results.
Hold and facilitate test plan/case reviews with cross-functional team members.
Identify any potential quality issues per defined process and escalate potential quality issues immediately to management.
Ensure that validated deliverables meet functional and design specifications and requirements.
Isolate, replicate, and report defects and verify defect fixes.
Performs other related duties as assigned.
Qualification:
Bachelor's degree or the equivalent combination of education, training, or work experience.
Job Requirements:
Knowledge of object-oriented development tools, techniques, and principles with knowledge in at least one object-oriented language such as C, C++, C# or Java
Knowledge of methods, tools, and technology used in performance testing a plus
Knowledge of basic principles, processes, phases and roles of application development methodologies
Knowledge of databases such as Microsoft SQL Server or Oracle including designing and manipulating test data, validating stored procedures, jobs, triggers and replication a plus
Knowledge of Micro Focus Performance Center (HP Performance Center) a plus
Knowledge of the cloud a plus
Knowledge of functions, features, and components of existing and planned operating systems and applications a plus
Skill in understanding and focusing on the clients' needs
Skill in analysis, solid decision-making and problem solving
Ability to work in a development environment where developers and testing personnel work closely together to ensure requirements are met or exceeded
Ability to deliver results under pressure
Ability to demonstrate interpersonal and teambuilding skills, working with technical and non-technical individuals
Ability to communicate effectively verbally and in writing
Ability to establish and maintain effective working relationships with employees, clients, vendors and public
When you apply, don't forget to mention that you found this Job Post on JobsRepo.com