Performance Test Engineer | 1 – 6 Yrs | Pune / Gurgaon
Experienced
Full Time
Experience: 1 - 6 Years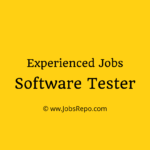 Website Amdocs
Job Roles and Responsibilities:
Execute Load, Stress, Endurance, and other non-functional performance tests.
Monitor application logs to determine system behavior. Analyze the CPU Utilization, Memory usage, Network usage, Garbage Collection and DB Parameters       and DB Reports to verify the performance of the applications.
Generate performance graphs, session reports and other related documentation required for validation and analysis.
Identifying memory leakage, connection issues & Bottleneck problem in the application.
Collaborate with application teams to design and execute NFT tests
Analyze report discrepancies to determine the root cause and evaluate script failures at a high level.
Compare and analyze system behavior vs. expected results/KPIs based on business and technical requirements.
You will identify issues, propose system improvements, and perform repetitive test execution to resolve identified issues.
You will participate in and contribute to internal design reviews of testing materials.
Job Requirements:
1-6 years' experience in performance testing of large scale enterprise systems.
Expert in developing test scripts, creating scenario, test execution and analysis using LoadRunner / Jmeter / Neoload / Blazemeter / SOASTA / Akamai and any monitoring        tool.
Expert in compiling, analyzing and interpreting performance test results.
Knowledge of application monitoring (e.g. HP Diagnostic, Dynatrace, AppDynamics etc.)
Attention to detail and good interpersonal and communication skills
Ability to understand hardware and software architectures
Ability to evaluate open source performance test tools and suggest suitable one for the application under test
Understanding of throughput, latency, memory and CPU utilization
Should be ready to work in an environment which may demand individual contribution as well as a team player.
Hands-on knowledge of Knowledge of SQL and PL/SQL query, C, C++, Java, Unix or any other language.
When you apply, don't forget to mention that you found this Job Post on JobsRepo.com