Member of Technical Staff – Java Developer | 3 + Yrs | Bangalore
Experienced
Full Time
Experience: 3+ Years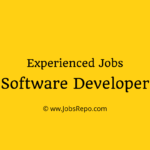 Website VMware
Job Description:
We are looking for a talented and motivated Engineer with hands-on experience developing Cloud/System Management software to join the VMware Cloud Foundation(VCF) R&D Group.
This is an outstanding opportunity for an individual to engage in development using innovative technologies, working cross-team and cross-geo environment.
Job Roles and Responsibilities:
Jointly responsible for design, development and maintenance of Cloud Management software using Hyper-Converged solution spanning on-prem and off-prem infrastructure.
We like agile; Develop modular software components & solutions in an agile fashion.
We work in teams; Collaborate effectively in a very fast paced environment across worldwide teams.
Practice proven software development methodologies and best practices.
Develop solutions using VMware, Partner and Open Source Technologies.
We believe in Dev owns quality, Developer owns the delivery of piece/module/system she/he is developing end to end.
We work with clients directly and maintain close association; Developer will required to support issues in production related to product.
Job Requirements:
Knowledge in developing enterprise grade cloud/system management software.
Knowledge of infrastructure & virtualization technologies (compute, networking and storage)
Good working knowledge of Java, Spring and OOP concepts in product based organizations
Knowledge of distributed, clustered and multi-threaded applications is a plus.
Minimum of 3 Years of enterprise software development experience
Experience with CI/CD tools such as GitLab, Jenkins, Nexus, Artifactory, Maven, Gradle is a plus.
Passionate, Can-do attitude and creative mindset.
Drive to finish tasks with highest quality and satisfaction.
Drive to engage with customers when needed and solve production issues.
Education:
Undergraduate degree in Computer Science or in a related discipline required.
When you apply, don't forget to mention that you found this Job Post on JobsRepo.com