Lead/ Engineer – Software Testing | 3 – 8 Yrs | Bangalore
Experienced
Full Time
Experience: 3 - 8 Years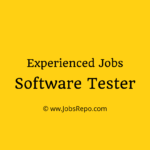 Website Wabtec
Job Description:
Wabtec is currently seeking an Embedded Unit Testing Engineers to join our Wabtec Test team whose role is to perform unit/functional testing and technical help documentation preparation.
Essential skills:
C /C++ language, embedded concepts White box testing techniques, unit testing Code analysis and call stack knowledge
Preferred skills:
Railway domain knowhow Safety Standards: Cenelac-SIL Tools and Test Environment: Trace 32 simulator 68k Cold Fire, STP
Experience and Qualification:
Bachelor of Engineering in CS/ECE
At least 2+ years of experience in C coding/development/testing
At least 3 years of White Box Testing experience in embedded Technologies.
Faults handling knowledge, Automation skills
Experience with function call stack, debugging and error tracing and segment faults handling knowledge
Experience with C language and any assembly language and C library creation and debugging and executable files creation.
Hands-on experience with Unit Testing.
Knowledge or working experience on Trace32 or VectorCast or other UT tools
Strong problem solving and analytical skills.
Job Roles and Responsibilities:
Perform unit Testing and involve in Structural report and Test Case results report generations.
Debugging and Resolve segment faults in the real time embedded systems
Identify the functional, pragmatic, semantic and syntactic errors in code.
Promote and apply industry best practices in embedded Unit Testing
Participate in planning, tasks preparations, status updates
When you apply, don't forget to mention that you found this Job Post on JobsRepo.com