Lead Automation Engineer | 5+ Yrs | Chennai 
Experienced
Full Time
Experience: 5+ Years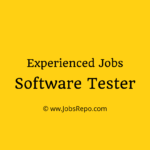 Website TransUnion
Job Roles and Responsibilities:
Architecture – Work with architects to define Cloud Strategy for a new Cloud Platform for global solutions
Planning/Process Management: Participate in PI planning and spring backlog refinement sessions. Prepares time estimates for all phases of development projects. Evaluates estimates against actual occurrences. Actively participates in post-implementation review.
Mentoring: Assists associate Quality Engineers with simple and moderately complex department procedures, environment, tools, utilities and standards.
Communication and Documentation: Provides input to peers, and management for recommendations and alternate solutions and/or improvements. Conveys and insures the understanding of technical strategies and vision to project participants. Publishes appropriate architecture principles and standards, blueprints, best practices, patterns and frameworks.
Job Requirements:
This position requires a Bachelor's degree in computer science or a related discipline, or an equivalent educational and work experience, with typically up to 5+ years of software quality experience
5+ years of experience with test automation tools, preferably Robot Framework and/or Specflow
Preferably 2+ years of experience testing and validating Cloud applications, on AWS and/or Azure
Works closely with agile team members to clarify requirements, ensure testability and automatability, to provide feedback on design (functional and technical)
Contributes to impact assessments from Feature enhancements on system level interactions, and existing automated test suites
Conducts Test Design, Test planning, Test automation development, and Test execution
Writes automated tests for high availability and highly scalable applications which will be used by both internal and external customers
Conducts Manual Testing, and uses strong Exploratory Testing to uncover weaknesses in test approaches
Identifies opportunities for reuse so as to design and implement test automation libraries
Provides test consultation to Scrum team members to assist them in developing robust Unit Test and regression test suites
Is responsible for ensuring quality of their work as well as the work of the entire scrum team
Logs defects and make recommendations to address defects
May conduct performance and scalability testing
Development responsibilities include doing test case review / bug analysis, analyzing development and test impacts, writing test tools and identifying automation opportunities
Contributes to improvements in unit testing coverage, design test framework, develop test suites, expand automated testing harness and automate scenarios/cases
Manage and guides offshore resources as needed
Act as internal subject matter expert for the Global Decisioning Platforms
When you apply, don't forget to mention that you found this Job Post on JobsRepo.com