IT Test Automation Engineer | 5 Yrs | USA
Experienced
Full Time
Experience: 5 Years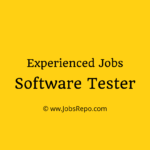 Website Conduent
Job Description:
We need someone who can join our team and help us with software testing of large scale systems that process hundreds of thousands of transactions daily, you'll be a part of something much bigger and together we build a platform that impacts the financial settlements for families in the US.
Job Roles and Responsibilities:
Analyze user needs and test software solutions using SDLC methodology
Create automatic test scripts for release testing including the identification, collection and/or creation of test data
Lead co-ordination and execution of release testing as appropriate
Determine and meet time estimates and schedules for testing efforts
Define Release Test Plans and criteria for user acceptance including entry/exit criteria
Develop, update and maintain quality testing standards and procedures
Communicate effectively with customers and software vendors as appropriate
Assist in the planning, creation and control of the test environment(s)
Follow standard testing methodology frameworks, testing processes as a standard
Co-ordinate testing specific release activities
Participate in the coordination of the onsite and offshore resources during the release testing in structured walk-through and peer reviews
Update and test release installation procedures
Participate in Lessons Learned as appropriate
Identify defects and questionable functionality; manage defects through to closure
Resolve issues with unclear requirements and achieve a successful result
Triage and solve complex problems using structured troubleshooting methodologies
Work independently as well as work collaboratively in a team environment
Job Requirements:
Minimum of 5 years of experience as QA automation Engineer
Ability to design, develop, test and debug tests cases/Scripts/plans/strategy documents
Minimum four (4) years' experience working on project(s) involving the implementation of software development life cycle(s) (SDLC).
Hands on experience developing test automation framework and test automation scripts: Selenium, WebDriver, Jenkins, Ready API
Ensure version control of test development artifacts using version control systems (GIT)
Manage VMWare test environment
Strong database experience in SQL server databases and proficiency in Transact SQL
Knowledge of Implementing Selenium GRID and Solid Java / XML parsing techniques
Knowledge of health insurance industry – Claims processing, ICD 9/10, Medicare, or Medicaid.
Document and interpret business and technical requirements for testing utilizing various development methodologies (e.g. Agile, Scrum, Iterative, Waterfall, etc.)
Preferred Skills:
Effective communication skills to articulate testing result data to multiple audiences.
Strong web services testing experience using Postman or Soup UI (SOAP,WSDL,XML).
Working knowledge of industry standard automated testing tools, practices, and software and/or Performance testing tools.
Strong and effective inter-personal and communication skills and the ability to interact professionally with a diverse group of clients and team members
Good to have knowledge in using the performance testing tools
Experience using a test management system tools such as VSTS
Certified Automation Tester is a plus.
When you apply, don't forget to mention that you found this Job Post on JobsRepo.com