Graphics Compiler Test Engineer | 3+ Yrs | Hyderabad
Experienced
Full Time
Experience: 3+ Years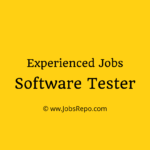 Website Qualcomm
Job Requirements:
Familiar with product software development/integration and release process/strategy
Good knowledge in programming using any scripting languages [Perl/Python/Ruby]
Good knowledge in Tools/Automation development – C/C++, Python/Django, Database
Strong understanding of Software Releases, Integration, and configuration management process/tools
Good communication at multiple levels and across multiple disciplines.
Ability to work on Windows, Linux, and Android environments
Self-motivated, adaptable, and independent, capable of working with limited supervision, pro-actively reporting on status and tasks.
3+ years of hands-on experience in the above areas.
Preferred Skills:
Experience in programming using any either scripting languages [Python/Perl]
Good hands-on experience of test methodology and test processes, including requirements collection and test plan development, testing automation and verification techniques.
Plan and execute product software integration/testing and build/release
Requirement's collection and test plan development, testing automation and verification techniques.
Good Knowledge in android and windows build system, integration and associated tools, issue analysis and resolving
Good Knowledge in Linux/Windows continuous integration development and Linux/Windows based build system enhancement
Educational requirements:
Required: Bachelor's, Computer Engineering and/or Computer Science and/or Electrical Engineering and/or Electronics & Satellites Eng and/or Information Technology
Preferred: Master's, Computer Engineering and/or Computer Science and/or Electrical Engineering and/or Electronics & Satellites Eng and/or Information Technology
When you apply, don't forget to mention that you found this Job Post on JobsRepo.com