Functional Testing with Core Banking Domain | 3 – 5 Yrs | Chennai
Experienced
Full Time
Experience: 3 - 5 Years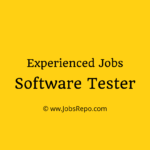 Job Roles and Responsibilities:
Provides application software development services typically in a defined project.
Develops program logic for new applications or analyzes and modifies logic in existing applications based on the technical design and coding standards so as to deliver error free output.
Codes, tests, debugs, documents, implements and maintains software applications.
Define unit test cases based on the technical design/functional design in a way that is comprehensive and verifies accuracy of developed features.
Execute the unit test cases defined so as to ensure error free execution in both the desktop and by deploying it in the development environment.
Perform documentation of the code changes and unit test result using SDF framework so as to maintain an audit trail of the changes.
3- 5 years in hands-on testing experience in Functional, Automation testing and strong in decision making skills.
Sound Knowledge in US Core Banking domain (Loans, Deposit, etc.)
Must demonstrate a basic understanding of the Traceability Matrix, Test Coverage Table, Risk Assessment, and test estimation
Must be able to write test cases and test scenarios for complex software applications
Must be able to execute test cases and scenarios. Must be able to report and review testing results. Should have working knowledge of defect management lifecycle including usage of tools like Quality Center, Remedy etc.
Domain Knowledge – US Core Banking
Loans, Deposit, Customer Information System
Worked on creating banking statements (e.g., Loans, Deposits or any Brokerage statements).
Experience in direct client interactions.
Work exposure on STLC and hands on is a plus
When you apply, don't forget to mention that you found this Job Post on JobsRepo.com