Fullstack Developer | 4+ Yrs | Bangalore
Experienced
Full Time
Experience: 4+ Years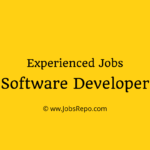 Website HPE
Job Description:
Applies developed subject matter knowledge to solve common and complex business issues within established guidelines and recommends appropriate alternatives. Works on problems of diverse complexity and scope. May act as a team or project leader providing direction to team activities and facilitates information validation and team decision-making process. Exercises independent judgment within generally defined policies and practices to identify and select a solution. Ability to handle most unique situations. May seek advice in order to make decisions on complex business issues.
Job Roles and Responsibilities:
Designs engineering solutions utilizing multiple engineering disciplines for products, systems, software, and solutions based on established engineering principles and in accordance with development technology practices and guidelines.
Develops and implements parameters and test plans for new and existing designs, including validation of mechanical, electrical, software, and other engineering specifications and requirements.
Collaborates and communicates with management, internal, and outsourced development partners regarding design status, project progress, and issue resolution
Leads a project team of other engineers and internal and outsourced development partners to develop reliable, cost-effective, and high-quality solutions for moderately- complex products.
Represents the mechanical/thermal team for all phases of larger and more-complex development projects.
Provides guidance and mentoring to less-experienced staff members.
Job Requirements:
Bachelor's or Master's degree in Mechanical, Electrical, or other Engineering, Computer Science, or equivalent.
Typically 4+ years experience.
Knowledge & Skills:
Using appropriate engineering design tools and software packages to design components and solutions.
Strong analytical and problem-solving skills.
Understanding of material properties and hardware, software, and electrical component design
Using empirical analysis, modeling, and testing methodologies to validate product designs and specifications.
Excellent written and verbal communication skills; mastery in English and local language. Ability to effectively communicate product architectures, design proposals and negotiate options at management levels.
When you apply, don't forget to mention that you found this Job Post on JobsRepo.com