Full Stack Developer (Software Development Engineer) | 5+ Yrs | USA
Experienced
Full Time
Experience: 5+ Years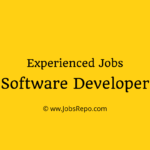 Website Amadeus
Job Description:
Are you the next Full Stack Developer (Software Development Engineer) we are looking for?
You will be a key member for the delivery of the R&D deliverables for 2022 roadmap. The role will require close interactions with Amadeus engineers, vendor partners, and product management.  Also always look for ways to optimize personal and collective performance.
Job Roles and Responsibilities:
knowledge of React and GraphQL/Apollo middleware including state management techniques.
Data Visualization experience (Highcharts, DeckGL, etc).
Developing new user-facing features using React.js
Experience in developing full stack solutions using NodeJS
Experience with building end to end (full stack), back end (DB) and hands-on knowledge for end to end design and development.
Docker/K8s/Helm.
GIT.
Working experience on CI/CD using Jenkins.
Strong communication skills of UIUX design concepts to translate to reusable assets.
Building reusable components and front-end libraries for future use.
Translating designs and wireframes into high quality code.
Optimizing components for maximum performance across a vast array of web-capable devices and browsers
Work with product team and graphic designers.
Learn and understand user interactions
Job Requirements:
Education: Bachelor's Degree in Computer Science or related field
Relevant Work Experience: Minimum 5 years of experience as a full stack developer
Must have 3+ years of experience as a full stack developer
Business Understanding: Knowledge of travel industry and hotel in particular is a plus
Skills:

Computing: React, Java Script, CSS, Unix, NodeJS, Python
Language: English
Specific Knowledge: Javs Script, NodeJs
Other:

Experience working with database systems.
Experience working with Kubernetes, docker, helm.
Experience in cloud-based systems is a plus.
GraphQL.
When you apply, don't forget to mention that you found this Job Post on JobsRepo.com