Full Stack Developer | 0 – 6 Yrs | USA
Experienced
Full Time
Experience: 0 - 6 Years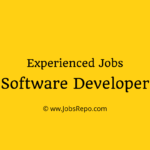 Website Nordson
Job Roles and Responsibilities:
Assist Senior Developers to develop, modify, document, and maintain web, windows, and mobile applications accessing Oracle and MS SQL databases using diverse tools including Microsoft.NET.
Actively monitor and take assignment of incoming help desk issues which relate to all company systems, both within the core job responsibilities and within the broader department wide responsibilities.
This requires finding and implementing resolutions to diverse internal end-user issues, within an acceptable time frame, and with a focus on high end-user satisfaction.
This also requires maintaining great desk-side relations with company-end users.
Assist and work collaboratively with Company staff in resolving technical problems and providing support relating to all facets of IT for the company.
Provide administration support for all areas of the internal ERP system (IFS).
Maintain, respect, and protect the confidentiality of information held within, or transferred across, the company's computer and communication resources in any format.
Design and develop queries written in T-SQL and PL/SQL for both applications and reports.  Assist in developing diverse front end data analysis tools and Business Performance reporting methodologies.
Along with other I.S. team members, be responsible for the implementation of, and adherence to all department guidelines and policies.
Will provide support for, and take ownership of assigned projects. Projects range in the areas of evaluation, configuration, testing, and deployment of computing hardware (OS and networking), productivity software, applications development, and operational business needs, as they relate to IS.
May be required to respond to off business hour support requests for critical system outages.
Be on call one weekend per month
Assist training of department staff and company personnel in IS Systems and procedures.
Other duties and responsibilities as assigned.
Job Requirements:
Bachelor's degree in Computer Science or related field of study with two (0-2) years of experience or Associates degree with six (6) years of related experience.
Knowledge of C# and other .NET technologies, JavaScript and web services development in the creation and administration of data driven websites and web services.
Website usability testing, writing for the web, graphic design or illustration, technology training or Help Desk/troubleshooting or similar experience.
SQL programming language proficiency to access SQL Server and Oracle data sources.
Solid knowledge of relational databases and strong understanding of SQL.
Automation technoglies such as terraform and ansible including knowledge of automation concepts such as CI and CD
Strong Understanding of GIT
Preferred Skills:
Ability to work on a schedule with deadlines and budget limits, with the ability to estimate the duration risks/returns and costs of a project.
Good team-working skills across diverse skill sets are imperative.
Ability to foster solid employee/IS Department relationships.
Reliable, able to work independently, and pay very close attention to detail.
Must possess excellent (documented) communication skills – listening, written and verbal.  Ability to read, analyze, and interpret common scientific and technical journals, financial reports and legal documents.  Ability to respond to common inquiries or complaints.  Ability to effectively present information to top management.
Enthusiasm and interest in data, transaction, network, and systems security.
Ability to successfully balance multiple concurrent assignments with minimal direct supervision.
Must be patient and cooperative.
Ability to provide regular, concise status reports detailing the progress of all assigned projects.
Must be comfortable working in a fast paced environment.
Excellent analysis, troubleshooting, problem solving, critical thinking, and technical skills required.
When you apply, don't forget to mention that you found this Job Post on JobsRepo.com