Engineer, Software Automation | 5 – 6 Yrs | Chennai
Experienced
Full Time
Experience: 5 - 6 Years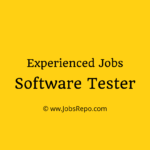 Website KLA
Job Description:
Software Quality Engineering (SQE) is functional group part of central engineering at KLA. SQE's mission is to enable quality consciousness at every step of software development and deployment that leads to superior customer satisfaction. DevOps, test automation and product quality engineering are key functions of SQE that drives internal software quality through CI/CD and external software quality through full flow software testing, exploratory testing, and customer collaboration.
Job Roles and Responsibilities:
We are looking for a passionate software engineer who will be supporting our test automation activities.
Responsibilities will include, but not limited to:
Build systems that involve databases and our inhouse automated testing framework.
Automate the process of extracting test result data from different sources.
Use intelligent algorithms and business logic to find the root cause of software failures.
Integrate and transform the scattered data and flat log files into homogeneous format and load them into our database.
Present them in an actionable manner through Power BI, dashboards, and other reporting and graphing tools.
Job Requirements:
5/6 years of experience in automation testing using Coded UI/Selenium/Other UI based tools
Experience in working with different automation frameworks; Proficient in creation of new frameworks
Strong programming skills/technical skills in OOD/OOP and interface definitions are essential.
Some experience with web service technologies like XML, REST, SOAP
Sound knowledge of QA methodology, processes and applicable tools
Experience with Continuous Integration tools and process—Jenkins is a plus
Demonstrated multitasking/threading and network programming experience are required.
Strong software diagnostic and troubleshooting skills are required.
Minimum Qualifications:
Master's Level Degree with work experience of 2 years
Bachelor's Level Degree with work experience of 3 years
When you apply, don't forget to mention that you found this Job Post on JobsRepo.com