Development Tester | 3+ Yrs | Mumbai
Experienced
Full Time
Experience: 3+ Years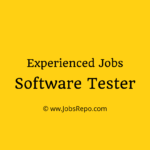 Website Ubisoft
Job Description:
As a development tester, you play a very important role in production of the game; you are the first gatekeeper of the quality. You work within the production team and test under development versions and features. You must ensure that the features developed are robust and meet the design requirements. You are also responsible for stability of code base and versions.
Job Roles and Responsibilities:
Smoke testing of the builds on regular basis to provide the status of the build for development.
Collaborate with the production team to understand the overall game vision & design documentation.
Develop and update test plans based on game features and design documents as drawn up by the development team, to pinpoint the bugs and methodically verify all the aspects of the game pertaining to his/her work cell.
Use the development team's tools to identify bugs, as features are implemented in the game. Isolate and reproduce the bugs to assess gravity and probability based on Ubisoft's standards, and suggest solutions;
Detail the bugs using the Jira database, and follow-up with other members of the development teams to facilitate their resolution;
Validate high risk changes before they are integrated into the main version to ensure stability and basic functionality;
Follow up on correction of functionality bugs in real time with the development team;
Stay up to date on testing best practices, strategies, and techniques to keep up with the industry + develop your skills and refresh your knowledge.
Closely coordinate with different QC teams (functionality, compliance, special tests) and be the communication link between production teams.
Send regular reports to project management team and highlight any potential risks in advance.
Manage and handle Builds review meetings, Playtests etc. for the project.
Keep track of Agile and send regular Sprint Update reports to Stakeholders.
Determine test needs with development teams, Associate Producers and Production Coordinators. Work closely with the leads for defining the Build Release procedures for Milestone plans, Project Test plans, etc. and ensuring their execution.
Job Requirements:
College Diploma/Degree in computer science, video game development or equivalent training
At least 3+ years of experience in the gaming industry with quality control or quality assurance.
Knowledge of bug tracking software (e.g. Jira), test creation software (e.g. TestRail), and game engines (e.g. Unity or Unreal) & their limitations
Solid understanding of test principles & methodologies and basic programming
A strong understanding of development processes and the different needs of a team throughout a development cycle.
A highly innovative, empathetic, and collaborative spirit
Strong problem-solving, organizational, communication, mentorship, and interpersonal skills
Critical thinking, attention to detail, curiosity, resourcefulness, and plenty of flexibility
Knowledge of gaming platforms (Xbox One, PS4, PC, etc)
Knowledge of version control software like P4V, GitHub etc.
Knowledge & Skills:
Good organization skills.
Having an eye for details and ability to detect bugs.
Excellent English communication skills (spoken and written).
Ability to tell a story through composition and mood
Considerable understanding of video games and broad video game culture.
Basic technical proficiency and knowledge of coding and scripting is preferred.
Knowledge on VR devices is plus!
When you apply, don't forget to mention that you found this Job Post on JobsRepo.com