Developer Associate – ABAP | 0 – 3 Yrs | Gurgaon
Experienced
Full Time
Experience: 0 - 3 Years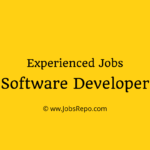 Website SAP
Job Description:
As a Developer/Associate Developer within the Team you take over accountability for excellent execution of SAP's Customer Success strategy. You will be dealing with the full development/ support cycle, from discussing requirements with our (internal) customers, to design, architecture, implementation, bug fixing and troubleshooting. In your role as Developer/Associate Developer you will work closely with international colleagues together on development projects with the following activities:
Design appealing and sustainable solutions for cloud operations using test-driven methodology.
Optimize and simplify existing processes and code.
Perform agile prototyping to evaluate which solution fits best for cloud operations.
Develop APIs in a model-driven way.
Job Requirements:
1 – 3 years of OO Program Exp.
Strong Knowledge in at least one object oriented language is a must. ABAP OO is much appreciated.
Hand on experience on working with GitHub repository will be an added advantage
Knowledge of fundamental web technologies, like http, SOAP, XML, REST API is beneficial.
SQL and/or HTML5 experience is a plus.
Experience in test-driven development as well as model-driven development is a plus
Expertise in agile development/ SCRUM is a plus
When you apply, don't forget to mention that you found this Job Post on JobsRepo.com