Dev Ops Engineer | 6 – 9 Yrs | Bangalore
Experienced
Full Time
Experience: 6 - 9 Years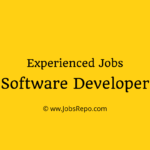 Website Motorola
Job Description:
Analyzes, develops, designs, and maintains software for the organization's products and systems. Performs system integration of software and hardware to maintain throughput and program consistency. Develops, validates, and tests: structures and user documentation.
Job Requirements:
AWS DevOps Engineer with 6 to 9 years of experience.
Well-versed with at-least one scripting language – PowerShell/python
Hands-on experience working on AWS Cloud.
Strong understanding of AWS foundation – VPC, Compute, Storage, Network & Security
Well-versed with at-least one scripting language – PowerShell
Code, Build and Release management (CICD) using GIT, Azure Dev OPS and Jenkins.
Experience with Server less Stack – Lambda, Step functions, API gateway
Sound understanding of OS (Windows) and OS hardening.
In-depth knowledge of Networks topology and cloud Security.
Should be able to work Independently and execute tasks with precision.
Optimizing and monitoring server performance and infrastructure cost optimizations.
Operation and architecture of multi-tier distributed systems Involving load balancers, firewalls, elastic compute and RDS.
Working closely with the engineering team to deploy and maintain the infrastructure.
Automate and streamline our operations and processes for scale.
Designing systems at scale to make sure solutions built are economical and secured.
When you apply, don't forget to mention that you found this Job Post on JobsRepo.com