DE Test Services DevOps Engineer | 5+ Yrs | Bangalore
Experienced
Full Time
Experience: 5+ Years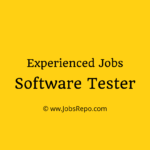 Website Ericsson
Job Description:
We are now looking for DevOps Engineer to join our Test Services functional area team in EGI Bangalore, who provide technical services and support to internal Ericsson users of the PDU OSS portfolio!
Job Roles and Responsibilities:
Fix and resolve environment & configuration issues to stabilize and optimize the PDU OSS products on Cloud based platforms.
Prepare Solution Design of an E2E Test Environment – ability to take customer requirement, design, resource, plan, risk mitigation – to ensure smooth customer delivery.
You will provide technical service and support, as well as developing customized automated monitoring & rollout solutions for the OSS Product Portfolio.
You will work, collaborate, and communicate in a diverse work environment. The role more than often requires you to tackle responsibility of driving issues to conclusion and it is important that you can work independently and as part of a multi-functional team.
Configure and integrate various node types including RAN, Transport, Mobile Core, Converged Core, 5GCore, UDM and CNF/VNFs in E2E networks.
Perform Continuous Analysis and Requirement Handling.
Develop and Test High Quality Tools for automation & CI/CD.
Participate in task forces to take on persistent or blocking issues.
Drive Continuous Improvements of Services and Processes.
Develop Competence in Technical Domain.
Job Requirements:
Knowledge & experience working with cloud computing platforms, e.g., Redhat, CEE.
Knowledge & experience working with cloud technologies and tools, container/microservices such as Docker, Kubernetes.
5+ years' experience of solving problems OSS Portfolio products, ie ENM, ENIQ, OMBS, EO, Orchestration.
Networking experience – ability to prepare HLD, LLD and design an E2E network layout.
Databases: Administration of object, relational or graphing databases.
Networks: Experience of some: ATM/IP, GPRS, GSM, WCDMA, LTE, IMS from either a telecom manufacturing company or telecom network operator is essential.
Scripting / Programming: Java, Python, Perl, CORBA, SQL
Validated TCP/IP and Veritas skills (Veritas Volume Manager, Veritas Cluster).
Experience in Java, Selenium Test Automation, Python Scripting.
Education: minimum BSc. in Computer Science, Computer Engineering or equivalent. MSc. or PhD or equivalent.
Superb communication and documentation skills, good team working and problem-solving skills, good demeanor for learning and continuous development of skills!
When you apply, don't forget to mention that you found this Job Post on JobsRepo.com