Consultant, Development | Manual Testing | 4 – 7 Yrs | Pune
Experienced
Full Time
Experience: 4 - 7 Years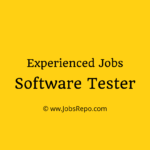 Website Infogain
Job Roles and Responsibilities:
Configure, use and manage test environments and test data.
Ensure adequate coverage of functionality in test cases written for every user story.
Work effectively to define testable user stories, especially the acceptance criteria, with customer representatives and stakeholders.
Track and maintain traceability between defects, test cases and user stories.
Perform regression tests on released features.
Participate in planning and retrospective meetings.
Report defects and work with the team to resolve them.
Proactively acquire information from stakeholders rather than relying entirely on written specifications.
Collaborate within the team, work in pairs with programmers and other team members.
Respond to change quickly, including changing, adding, or improving test cases.
Work with Product Owners to define Acceptance Criteria and the Definition of Done.
Nurture stories through development and testing until they are done.
Participate proactively in daily stand-up meetings, story grooming sessions, team retrospectives, suggestions and implementing improvements.
Job Requirements:
Education: B.E. / B. Tech / MCA / MCS
Experience: Overall 4 to 7 years experience in Manual Testing.
Knowledge and Skills:
Excellent knowledge of tools needed for test case and defect management.
Strong experience on functional and system testing for web applications.
Must have knowledge on database testing.
Experience on test management tools like MTM, Test Link, or QC.
Good analytical and problem-solving skills essential.
Excellent team working skills. Must be able to work as an individual contributor or in a team.
Must have exposure to Agile development methodologies.
Should have strong communication skills in English language.
– Experience in DB and API Testing through Swagger and Postman
Knowledge & Skills:
Primary Skill: Manual Testing
Sub Skill(s): Testing
Additional Skill(s): AngularJS, Mule, MuleSoft, WSO2 ESB, .NET Architecture, AIX, REST APIs, Database Testing, Testing, API Testing, NFR Testing
When you apply, don't forget to mention that you found this Job Post on JobsRepo.com