C++ Programmer | 2 – 4 Yrs | Pune
Experienced
Full Time
Experience: 2 - 4 Years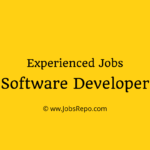 Website Amdocs
Job Description:
Looking for Enabler Invoicing/CM/AR application Developer. Designs, develops, modifies, debugs and/or maintains software systems. Working on one or more specific modules within a large software system scope. Assumes ownership and accountability of specific modules within an application.
Job Requirements:
Bachelor's degree in Computer Science or equivalent
Total Experience: 1 to 4 years
In-depth knowledge of C++/Core Java concepts, data structures, multi-threading is must.
Should have good working knowledge of development to debug code and fix.
Ready to work on new development like enhancement or new product requirements
Amdocs Billing product Invoicing/CM/AR knowledge is must
Job Roles and Responsibilities:
Engineering – Designs, develops, modifies, debugs and/or maintains software code according to functional, non-functional and technical design specifications. Follows Amdocs software engineering standards, applicable software development methodology and release processes. Ensures code is maintainable, scalable and supportable. Presents demos of the software products to stakeholders and internal/external customers.
Investigation – Investigates issues by reviewing/debugging code and providing fixes (analyzes and fixes bugs) and workarounds, reviews changes for operability to maintain existing software solutions. Highlights risks and helps mitigate risks from technical aspects.
Analysis – Analyzes requirement documents/HLDs. Performs impact assessment (for example, for critical production issues) and contributes to Root Cause Analysis of issues and outlines corrective actions.
Team Work and Collaboration – Collaborates with cross-functional teams to achieve goals. Serves as the technical focal point with other teams to resolve issues related to interfacing functionalities.
When you apply, don't forget to mention that you found this Job Post on JobsRepo.com