C/C++ Developer | 4+ Yrs | Bangalore
Experienced
Full Time
Experience: 4+ Years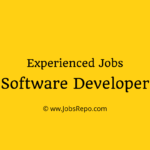 Website Micro Focus
Job Description:
Micro Focus is seeking a Software Engineer to work on the design and implementation of a large scale, highly distributed server protection solution. Qualified applicants will have 4+ years of experience.
This Software Engineer will report into the Manager of the Data Protector product development team, work across engineering disciplines, participate in requirements specifications, and contribute to the design, implementation, qualification, and delivery of components assigned.
The ideal candidate needs to be forward-looking and pragmatic in solving problems and must have excellent communication skills.
Job Roles and Responsibilities:
Participate in requirements specifications
Document designs and functionality
Contribute to the design, implementation, qualification, and delivery of all components associated with the solution's management back-end
Job Requirements:
4+ years in a developer position working with C and C++
Solid design skills; OOM/OOD, patterns, etc.
Experience building large scale and highly distributed applications
Experience building applications on top of Windows and Linux platforms
Use of standard development tools; source control, IDE, unit test, etc.
Knowledge of good engineering practices
Exposure to a formalized Software Development Life Cycle process, Agile methodologies
Excellent organizational and communication skills
Desire to work in an exciting and challenging atmosphere
Preferred Skills:
Experience developing with Java / C#
Experience building applications on top of UNIX platforms; Linux, HP-UX, Solaris, AIX, etc.
Knowledge of the data protection business space
Experience or exposure to Virtualization technologies (VMware, Hypervisor, etc.) and Cloud technologies
Experience and Qualification:
Bachelor's or Master's degree in Computer Science, Information Systems, or equivalent
Minimum 4 years of experience
When you apply, don't forget to mention that you found this Job Post on JobsRepo.com