BFM – QA Engineer 3 (Automation) | 4 – 7 Yrs | Bangalore
Experienced
Full Time
Experience: 4 - 7 Years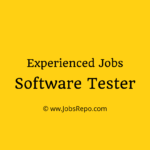 Website Amadeus
Job Description:
By joining the BFM team, you will join one the Scrum dedicated to BFM, covering platforms ranging from OBE (C++/Python) to Hadoop, UI development (Angular), data storage (MySQL/Elastic Search) and access (reporting products, REST API, …).
You will be part of the BFM evolution towards the Cloud and you will contribute in the definition of the architecture to correlate data from public clouds and data center and in the implementation of the solution.
Job Roles and Responsibilities:
Analyse specifications
Work with developers / business analyst to breakdown customer needs for the development of new (or upgrade of existing) software solutions and validate / automate them manually during the software development life cycle.
Design automation framework

Design UI automation framework and perform feasibility studies.
Propose viable solutions for automation for quicker validation cycles and reduce time to market.
Develop automation framework according to Amadeus standards.
Inspire and promote consistency, robustness of automation framework and tests developed.

Test and maintain the software

Conduct end to end tests and ensure a level of quality in line with the Amadeus guidelines.
Participate in the validation phase of the product cycle, and regress so that quality product builds are shipped to production.
Support the customer by investigating issues and collaborating with Developers or Business Analyst or Product Manager.

Document your work

Produce documentation necessary for the application and issue it to the requesting departments.
Job Requirements:
University degree in computer science or related field or relevant experience between 4 – 7 years.
Good English verbal and written communication skills
Your previous work experience

4+ years of experience in UI / Backend Automation and Manual Validation experience.

You have specific knowledge on

Experience in Validating and automating Angular applications, Rest APIs, using Playwright and Kassette and you are comfortable using your relevant programming skills in typescript.

You are known for your

Analytical thinking
Conceptual thinking
Continuous improvement
Innovation
Creative and analytical mind
When you apply, don't forget to mention that you found this Job Post on JobsRepo.com