Azure Full Stack Developer | 6+ Yrs | Bangalore
Experienced
Full Time
Experience: 6+ Years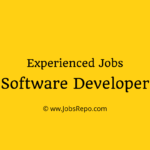 Website Cyient
Job Roles and Responsibilities:
Designing high availability, and Multi-region Cloud-based application architectures
Installing and configuring Azure tools on cloud or non-cloud infrastructure.
Migrating application from On Prem to Cloud.
Designing and building modern scalable and RESTful web applications using modern web technologies
Building a simple architecture and leverage reusable components / services
Working closely with global customers to understand their requirements and build software solutions using best practices
Job Requirements:
Over 3 years of experience in Azure Cloud architecture and solutioning
Minimum 6+ years of experience in IT industry.
Extensive experience in .NET/Microsoft stack. Technical skills (.Net, .Net Core, C#, ASP.NET, Windows Forms, WPF, MVC, and REST API, React JS, Angular JS, full-stack, Azure, MySQL,MSSQL GIT)
Experience with Microsoft Azure DevOps, Azure DevOps Boards, Ansible, MS Build, MS Azure DevOps pipeline, Azure Artifacts, nuget, NPM, Maven
Planning, Architecting and Designing of large and complex applications/Infrastructure using Microsoft Azure and related cloud ecosystem
Microsoft Azure Operational and Monitoring tools
Azure DevOps with hands on experience in CI/CD implementation.
Experience in Azure Containers and Kubernetes Services
Strong competencies in Data Structures, Algorithms and Software Design
Ability to develop large scale web/database applications.
Advanced experience in Object oriented programming, data structures, dependency injection and multi-threading.
Preferred Skills:
Work closely with product owners, developers, participates in product architecture and design discussions.
Strong and innovative approach to problem solving and finding solutions.
Flexible, proactive and self-motivated with ownership of problem resolution and willing to accept a change in priorities as necessary
Good communication skills and ability to articulate technical issues in a manner business users can understand
Good presentation skills
Experience in Agile SCRUM software development methodologies, system design and implementation as per daily scrum and assigned task.
Experience and Qualification:
Any Degree in Computer Science Engineering or Equivalent Experience
Skills & Experience:
When you apply, don't forget to mention that you found this Job Post on JobsRepo.com