Automation Test Analyst | 6 – 9 Yrs | Pune
Experienced
Full Time
Experience: 6 - 9 Years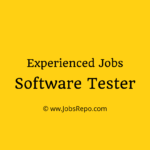 Website Barclays
Job Description:
Identification and qualification of opportunities to improve testing activities through the application of tools.

Analysis, design and implementation of test automation solutions, Create and maintain automation scripts

Create Test ware – estimates, scenarios, cases, and data.

Execute Tests(Manual and Automated) , collate evidence and manage Defect reporting and tracking.

Support more junior team members or lead a small team of more junior test engineers.

Monitor team progress and Communicate with stakeholders on test engineering status.

Demonstrate implementation of process, strategy and/or testing improvement/efficiencies.
Job Roles and Responsibilities:
Be a SME in the application/ program under test demonstrating holistic know-how of the functional and operational structure e.g. SME in Investment Management, and Trading

Execute granular plans for test phases based on overall project plan to accommodate all tasks involved

Participate in requirement analysis and static testing

Identify and highlight discrepancies in specifications

Create dependency matrices/ data matrices as deliverables from analysis/ scrum sessions

Solutionize problems identified during scrum meetings

Visualize, Identify and communicate long terms risks with project/ test approach

Model user scenarios as part of SIT to attain more coverage early on.

Understand the AUT and share your understanding within the team

Create risk log/ query log/ mind map/ flow charts

Create test cases/ scripts/ charters/ data sheets/ sample data

Set up and Execute tests and record evidence

Raise defects with appropriate amount of details

Report results/ outcome of testing to project audience

Support estimation of test engineering tasks (Automation) for the assigned project.

Undertake timely maintenance of automation assets to ensure their relevance and pick up automation of new functionalities

Provide guidance to other team members on technology/domain/application queries

Demonstrate an improvement in business and/or system knowledge in your relevant program line through self-learning/ external trainings

Support test teams in the identification of opportunities to reduce manual testing effort through the application of test tools

Analysis of manual tasks and identifying best way to automate them through discussion with BA/ Dev/ Test teams

Conducting demos to the stakeholders for POC using concise and crisp combination of static presentations and dynamic demo executions

Deliver test automation improvement initiatives within the project group.

Conform to established good practice and any appropriate test automation standards
Job Requirements:
Keen knowledge on testing concepts, processes, types and methods of testing

Previous experience and exposure in automation scripting, management/testing and framework creation. (Selenium/Java) is a must.

6-9 years of experience in software Testing / Automation testing

Hands on experience of working in agile projects and knowledge of Test Management tools (e.g. JIRA)

Graduate with software engineering background
Knowledge & Skills:
Experience in testing of Web Based Applications.

Experience of working on Investment banking applications.

Domain/Testing/Technical certification will be an advantage
When you apply, don't forget to mention that you found this Job Post on JobsRepo.com