Automation Lead | 8+ Yrs | Bangalore
Experienced
Full Time
Experience: 8+ Years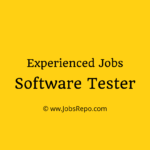 Website Motorola Solutions
Job Description:
We are seeking a talented and experienced hands-on Automation lead and SME for our mission critical public safety communication solutions. As an Automation lead, the candidate will be responsible for developing and implementing an Automation strategy that aligns with MCPTT system's goals and objectives, designing and implementing automation solutions, leading and managing automation projects, collaborating with relevant stakeholders, managing and mentoring team members, staying up to date with emerging automation technologies. This role is critical in ensuring that public safety services can rely on the MCPTT system during critical situations.
Job Roles and Responsibilities:
Developing Automation Strategy and Scope that aligns with the company's overall goals and objectives.
Lead and Manage Automation projects from initiation to completion, including identifying the right technologies, tools and platforms, scoping out project requirements.
Collaborating with relevant stakeholders to understand their needs and pain points for automation opportunities.
Designing, implementing and validating Automation solutions to ensure that they meet the requirements and are scalable.
Managing and mentoring team members, providing them with guidance to ensure the team delivers high quality solutions.
Staying up to date with emerging automation technologies and tools keeping the organization at the forefront of automation. This role is critical in helping the organization to become more efficient, agile and innovative through the use of new technologies.
Job Requirements:
Bachelor's degree in Computer Science or related field.
At least 8+ years of experience in Automation lead in the field of Telecommunication.
Experience with test Automation Framework such as Robot Framework, Selenium, Appium, PyTest, SeeTest, rundeck etc and test tools such as Wireshark, Tshark, JMeter, Loadrunner, Spectra, Media simulators and Emulators, Jenkins, Travis CI.
Experience with Test Management Tools such as TestRail, JIRA, HP ALM etc.
Experience with Agile methodologies.
Experience with Continuous Integration and Continuous deployment(CI/CD) processes and tools like Jenkins, GitLab etc.
Experience with automating with network Emulators and Performance monitoring tools.
Experience with Automation framework in Cloud Infrastructure like Azure, AWS.
Knowledge of 3GPP MCPTT standards and protocols desired.
When you apply, don't forget to mention that you found this Job Post on JobsRepo.com