Automation Engineer | 2+ Yrs | USA
Experienced
Full Time
Experience: 2+ Years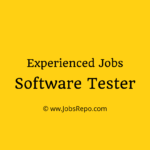 Website Caterpillar
Job Description:
The system engineer role on the Machine Safety Solutions team involves system and software design activities as it pertains to camera and radar detection systems. These systems provide increased operator awareness and site safety for construction and mining machines. The position responsibilities include a strong quality focus through unit testing of the developed code, and significant interaction with downstream integration points including: Software in the Loop (SIL), Hardware in the Loop (HIL), Simulation, Substitute machine testing and actual machine testing.
The engineer will work within an immediate team of three engineers and numerous internal process partner teams. The engineer will be responsible for creating detailed design and test documentation, performing systems verification in a laboratory, and validation activities on various machines at the proving grounds.
Job Roles and Responsibilities:
System engineering responsibilities include, but are not limited to:
Gathering requirements from internal customers, process partners, and regulatory teams
Creating and managing detailed design documentation
Participate in camera and radar use case development
Participate in camera and radar DFMEA development
Coordinate camera and radar test coverage, test to requirements, and report test results
Participate or support EMC system level tests
Travel to proving ground or customer sites for test support when needed
In order to develop the systems effectively, this position must work closely with Component Hardware team members to select or understand the camera and radar hardware that will be used. A strong knowledge of complex, existing external automation solutions and algorithms is necessary to help determine appropriateness, and if new algorithms are needed. Knowledge of existing internal automation applications and libraries is important to drive consistency. Much development work may be related to existing applications, therefore a strong ability to read and understand existing software is essential to developing updates and improvements.
Good communication is expected for technical status updates, subsystem reviews, and when working closely with other system developers, support teams and testing staff in multiple geographic locations and organizations.
Keeping up with industry trends and new technology breakthroughs is essential and requires continuous learning through self/internet study, as well as interaction with other autonomous engineers through conferences and papers.
Job Requirements:
Bachelor's degree in an accredited Engineering or Computer Science curriculum
2+ years of experience creating and managing requirements & detailed design documentation, 1+ year of experience with camera or radar systems.
Top Candidates will also have
Advanced degrees are highly desired.
Incumbents must have demonstrated familiarity with Agile development practices and methodologies
Excellent written and verbal communication skills to work in a global team environment
Additional Information:
The location for this position is Mossville, IL
Relocation assistance is not available for this position. Any relocation costs incurred would be the responsibility of the selected candidate.
This position may require less than 10% travel
Visa sponsorship is available for this position
When you apply, don't forget to mention that you found this Job Post on JobsRepo.com